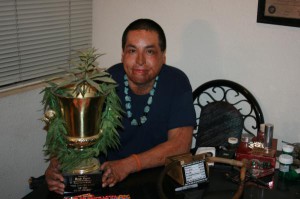 By: Eugene Davidovich
On October 26, 2003, the Cedar wildfire was raging through the San Diego County, claiming over a dozen lives and taking with it thousands of homes. Many believe the fire caused the worse damage in the history of San Diego County. According to Wikipedia, "The Cedar Fire burned 280,278 acres (1,134.2 km2) 2,820 buildings (including 2,232 homes) and killed 15 people including one firefighter before being contained on November 3, making it the largest fire in recorded California history up to that time".
Rudy Reyes, an Archaeology major and instructor at several local colleges, on the night of the 26th was living near the Barona Indian Reservation of San Diego County. Watching and listening to the news coverage of the fires, he had no idea that the part of San Diego County where his family lived, was directly in the path of the cedar fire, and that on this night, the fire would change the direction of his life forever.
By the time Rudy realized his family's home was facing imminent destruction from the oncoming tower of flames, he also realized the firefighters themselves had already evacuated. Rudy knew he had to act fast. Believing that his family members were still in their home and in danger, Rudy jumped in his car, rushed to the house and managed to evacuate everyone to safety.
Once his family was safe, Rudy tried to get out of the way of the fire. Unfortunately by that time the fire had grown exponentially stronger and Rudy found himself trapped. His car that just a few minutes ago ran with no problems would no longer start. Rudy explained during the interview, "When I turned the keys, nothing happened. It was like the car was disabled".
Rudy went on to explain that the nearby flames had sucked up all the usable oxygen in the area, and since all internal combustion engines require oxygen to operate, the car wouldn't start.
Now realizing that if he remained in his car he would surely not make it, Rudy got out, ran into the house and jumped in the shower in hopes the water would protect him from the imminent threat of the flames.
While standing in the shower Rudy recalled, "I looked up at the ceiling and saw that it had become fluid and covered in waves of blue flames. I knew it was time to get out, and get out fast". After making his way out of the house and back into the driveway, he found his car had already caught fire and that there was only one way out of the situation; run through the fire line.
Without having much time to ponder the issue, Rudy covered his face with his hands and made his way through the tunnel of flames that appeared to have on the other side of it a safe exit. Only a few seconds into his escape, he felt his muscles tighten and "it became extremely difficult to move my feet, what was an easy walk on a paved street on a normal day, began to feel like I was walking through quicksand, I felt the elasticity in my muscles start to disappear".
Knowing that if he stops, he surely would not make it till morning, Rudy pressed on. Minutes later he miraculously emerged on the other side of the fire, still conscious, in severe shock, yet still able to walk.
He made his way down to the road and tried to wave down the first truck he saw driving by. Shockingly Rudy described, "The truck flashed his lights, honked the horn, and passed me without stopping". Rudy kept on.
As he described, what felt like an eternity later, Rudy saw another car. This time the driver pulled over and at the sight of Rudy shouted "get in the back now, we have to get you to a paramedic right away". The Good Samaritan drove Rudy to the nearest ambulance and the paramedics eased Rudy into what turned into a two and a half month drug induced coma.
Rudy woke up to over 70% of his body covered in third degree burns and the realization that he now faced a lifetime of excruciating chronic pain, countless surgeries, and a body at the brink of overdose from the narcotics / pain relief medication administered to him at the hospital.
He quickly learned that the narcotics prescribed by his doctors were no longer working, and the pain became intolerable. In hopes of saving himself from a life of addiction to narcotics, Rudy listened to the recommendation of one of his doctors at the hospital, and tried medical cannabis. To his amazement, while an inpatient at the hospital, he was allowed to go outside and medicate using cannabis cigarettes in the hospital's gazebo, as well as began applying cannabis infused creams to his burns which his family brought him.
Once out of the hospital and in need of safe access to the only medicine that helped him live a normal life, Rudy found himself on the front lines in San Diego County's war like effort to eradicate access to medical cannabis. Rudy made the cause his own, and for years now has lobbied in front of the Board of Supervisors, City Council, and countless politicians for medical cannabis patient's rights.
In 2008 Rudy's efforts brought him to the race for San Diego County Board of Supervisors. He ran with the San Diego Democratic Party's endorsement against incumbent Republican Diane Jacob for her seat. Although he wasn't successful in winning the seat his first time around, he did manage to get an unheard of 20,000+ votes.
Today, dozens of surgeries later and with the full support of the community of patients in San Diego behind him, Rudy Reyes is gearing up for another fight. He has officially announced his candidacy for Santee City Council in 2010. Rudy told Nug Magazine, "The City of Santee needs a change".
In 2010 Rudy intends to bring this change, and in 2012 he intends to make another bid for the San Diego County Board of Supervisors.
By 2012, Rudy will have two political races behind him and years of experience in the public eye. This combined with his resilience, ambition, and dedication to the community will make him a political force to be reckoned with.
The County Board of Supervisors and Santee City Council are just the beginning of Rudy's political aspirations, his ultimate goal as he told Nug Magazine, is to go to Congress, where he can help address national issues related to interstate travel for medical marijuana patients as well as federal medical marijuana policy.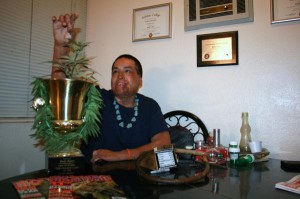 (This article was printed in February's issue of NUG Magazine! Get your copy today!)
Eugene Davidovich
T: 619-621-8446
San Diego Americans for Safe Access
www.safeaccesssd.com
Get Involved, get active, make a difference!
Join ASA – www.safeaccessnow.org