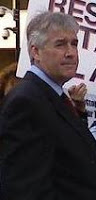 4/21/2010 – 3pm (Court 15) – SD Federal Courthouse – 940 Front St. SD CA 92101
How you can help James Stacy Today:
1. Come to Court today on 4/21/2010 – 3pm (Courtroom 15) – San Diego Federal Courthouse – 940 Front St. San Diego CA 92101
2. Help HR 3939 Pass! This is new Federal Legislation known as the "Truth in Trials" act, which would allow Federal defendants to present the medical marijuana defense in federal court. One in four Americans now lives in a state with laws governing medical marijuana. Unfortunately, law-abiding citizens can still be prosecuted on federal marijuana-related charges as Mr. Stacy is being prosecuted in San Diego. Even with the Obama Administration's new guidelines, federal prosecutors can still block defendants from showing that they were in compliance with state law.
The "Truth in Trials" Act, H.R. 3939, would end this injustice by ensuring that federal defendants could present evidence showing that they were following state law. Introduced by US Representative Sam Farr, this important legislation would give law-abiding citizens the ability to defend themselves in federal court. Urge your Member of Congress to cosponsor "Truth in Trials" today by completing and submitting the following online form CLICK HERE TO URGE CONGRESS TO PASS HR 3939
3. Send James an email of support letting him know that the community is behind him 100% in this difficult time, that we will be there in court to support him throughout the trial, that his fight is our fight and that we admire, appreciate, and support James standing up for our rights against this injustice! James can be reached at movementinaction@gmail.com
4. Donate to James, to help him and his family get through this nightmare. Visit his website and click on the DONATE link! http://movementinaction.org/donte/
To find out more about James' case please visit www.movementinaction.org
James Stacy, a legitimate medical cannabis patient and founding member of Movement in Action Collective which was raided on 9/9/9 by Bonnie Dumanis and her Cross Jurisdictional Narcotics Task Force (NTF) is facing Federal charges and the possibility of life in prison for simply following state law.
Last year an undercover detective came in to the collective pretending to be a legitimate patient. The detective presented a current and authentic medical marijuana letter of recommendation as well as a CA drivers license. After completing all the required membership agreements and going through the member screening process, he joined the collective and purchased a small amount of medicine.
According to the police reports, while in the collective, the detective asked whether he could contribute to the effort in other ways besides financially reimbursing the collective for the medicine. James explained to him that he could work at the collective, help out, and contribute in other ways.
In a recent San Diego City Beat Article, Dave Maas wrote that "Stacy says he did the due diligence: He researched the prosecutorial policies articulated by Holder, hired a lawyer to walk him through the process and corresponded with the California Secretary of State's (SOS) office on how to file for "public benefit" status, the technical term for a California nonprofit. The SOS even provided him with a copy of the state Attorney General's guidelines for running a collective. Unlike many of the other collectives where the San Diego Regional Narcotics Task Force ran stings, Stacy opted for a low-profile model because, he says, "I didn't want people who didn't need to know to have it in their face."
Less than 2 months later on 9/9/9, the San Diego NTF, raided James' collective, arrested him, and charged him with sales, cultivation, and manufacturing of cannabis, during the raid, at the collective the NTF detectives found a registered firearm and have charged James with possession of the firearm in connection with running an "illegal operation".
The collective was operating in full compliance with state law, and the US Attorney office has suggested that they agree with that fact. Kasha Kastillo the federal public defender representing James in this case, has filed numerous motions attempting to get the case dismissed or at the least sent to state court, with no prevail.
Although James suffers from daily chronic pain, he has complied with all requirements of his federal indictment including not using medical cannabis, which has taken a negative toll on his life. In a recent hearing James' attorney asked the court to allow James to medicate. San Diego ASA was at the hearing to hear the prosecution's demand that as a result of this request James be drug tested weekly.
The Judge explained to both sides that he could not give authorization for James to medicate as this was Federal Court and marijuana was still considered an illegal substance but at the same time refused to implement the drug testing requirements.
James Stacy's trial is currently scheduled to begin in August, in San Diego Federal Court, 940 Front St San Diego CA 92101.
Today James goes to court to set the dates of his trial, as well as to get the court to allow him to present a medical defense during trial.
Eugene Davidovich
T: 619-621-8446
San Diego Americans for Safe Access
www.safeaccesssd.com
Get Involved, get active, make a difference!
Join ASA – www.safeaccessnow.org