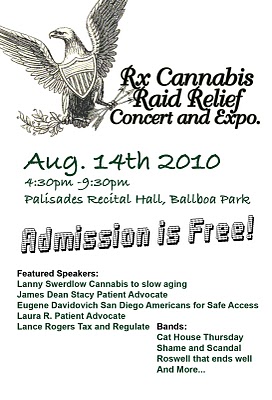 Balboa Club Park Ball Room
Aug. 14th 2010 – 4:30pm – 9:30pm
Mark your calendars and get ready to have a great time, get involved and make a real difference against this fierce fight on patients in San Diego.
This is a historic event in San Diego that will help raise funds for James Stacy and his Federal Medical Marijuana fight, as well as other defendants fighting against these illegal raids and persecutions of legitimate medical marijuana patients attempting to follow the law.
Admission is free! There are over 50 exhibitor spaces available!
The RX Cannabis Raid Relief Benefit Concert and Expo will feature and exciting evening of exhibitors, speakers, and bands at the world famous Balboa Bark Club Ball Room.
Meet with medical cannabis activist groups, medical collectives and alternative health care professionals from all over San Diego County and around the state. Listen to great speakers and learn the latest in medical cannabis law, regulations, as well as our strategy for Safe Access in San Diego.
For years now the Narcotics Task Force combined with the District Attorney's office has been terrorizing patients in San Diego through vindictive, bias driven prosecutions, raids, and outright harassment. You can help the victims of this Reefer Madness Propaganda and Dumanis' Fierce Fight against patients stand up for their rights.
By supporting this event, and helping raise money for the victims, you are helping put a stop to the cycle of plea bargains and we can begin to hold the responsible parties in our government accountable for their actions of waste, fraud, and abuse of power.
James Stacy and Laura R. are two of the many individuals that are currently being prosecuted and persecuted for providing safe access within the State law. This benefit goes directly to their defense fund to help them continue fighting without accepting a plea. Come support our heroes and learn more about the movement.
Sponsorship opportunities include: Food, Exhibitor Tables for Collectives, Law Offices, Pain Management, Chiropractors, Doctors, Jewelry, Clothing, as well as other advertising and promotional opportunities.
Contact James Dean Stacy for Details! 760-758-8500 – movementinaction@gmail.com
San Diego Americans for Safe Access
www.safeaccesssd.com
Get Involved, get active, make a difference!
Join ASA – www.safeaccessnow.org