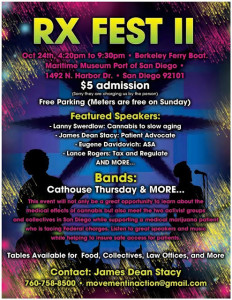 This Sunday at 4:20pm if you are anywhere near San Diego, you absolutely need to stop by James Stacy's RX FEST 2. The event will be filled with great Bands, Exhibitors, Speakers, Food, and lots of education about Cannabis!
WHAT: Rx Fest 2
WHEN: Sunday – October 24, 2010 @ 4:20pm
WHERE: Berkeley Ferry Boat – San Diego Maritime Museum
Help raise money for James Stacy as well as awareness for the cause! Share this email with a fried and help spread the word about this event!
Stacy was raided as part of Dumanis' fierce fight against medical marijuana providers and patients in San Diego, and has refused to take a plea bargain, instead is organizing the second medical marijuana convention in San Diego!
This is a historic event in San Diego that will help raise funds for James Stacy and his Federal Medical Marijuana fight, against continued harassment, prosecution, and intimidation of legitimate medical marijuana patients attempting to follow the law.
RX Fest 2 will feature an exciting evening of exhibitors, three bands, and a number of speakers at the world famous Berkeley Ferry Boat located at the San Diego Maritime Museum on historic Harbor Drive in San Diego. Admission is $5 and the event is OPEN TO THE PUBLIC!
Meet with national advocacy groups, medical collectives, doctors, lawyers, insurance specialists and alternative health care professionals from all over San Diego County and around the state. Listen to great speakers like Judge Grey and Lanny Swerdlow, RN, and learn the latest in medical cannabis law, regulations, as well as our strategy for Safe Access in San Diego.
For years now the DEA, Narcotics Task Force and the San Diego District Attorney's office have been terrorizing patients in San Diego through vindictive, bias driven prosecutions, raids, and outright harassment. You can help the victims of this reefer madness propaganda campaign, and San Diego District Attorney Bonnie Dumanis' fierce fight against patients stand up for their rights.
By supporting this event, and helping raise money for James Stacy and are helping put a stop to the cycle of plea bargains and we can begin to hold the responsible parties in our government accountable for their actions of waste, fraud, and abuse.
James Stacy is the only defendant currently being prosecuted in Federal Court from the 9/9/9 raids. All proceeds from this Concert & Expo directly benefits Stacy's ability to continue his fight without accepting a plea.
Come support our heroes and learn more about the medical marijuana movement!
Directions and Parking The Maritime Museum of San Diego (Berkeley Ferry Boat) is located on Harbor Drive near the corner of Ash Street just a few blocks West of interstate 5. From interstate 5 North or South take the "Airport" exit. Look for signs on the freeway and after exiting on to surface streets that read "Embarcadero-Maritime Museum." They will direct you to the museum. Street Address : Maritime Museum of San Diego – 1492 North Harbor Drive San Diego, CA 92101
If you are not able to make the event, please share it with a friend and help us get the word out! – http://rxfest2.blogspot.com/
If you are interested in exhibiting at the event or being a sponsor, there is still time to get a booth! Call James Stacy for more information: T: (760)758-8500 – movementinaction@gmail.com
San Diego Americans for Safe Access
www.safeaccesssd.com
Get Involved, get active, make a difference!
Join ASA – www.safeaccessnow.org
www.rxfest2.blogspot.com