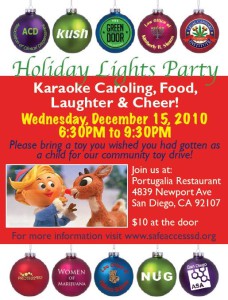 Mark your calendars and get ready to have a great time, and make a significant difference in our community in San Diego this holiday season.
San Diego ASA has teamed up with a number of amazing organizations in town to bring you this year's Holiday Party!
The party will be held on Wednesday December 15th 2010 form 6:30pm -9:30pm at the Portugalia Restaurant located in Ocean Beach, CA (4839 Newport Avenue San Diego, CA)
The night will be filled with Karaoke Caroling, Food, Laughter and Cheer!
WHAT: San Diego ASA Annual Holiday Party
WHEN: Wednesday, December 15, 2010 – 6:30pm-9:30pm
WHERE: Portugalia Restaurant 4839 Newport Ave SD, CA
Please bring a toy you wish you had gotten as a child for our community toy drive. This year we have teamed up with The Green Door Collective who will be bringing out the Toys for Tots Marines at 6:30pm to the restaurant to collect toys. The Green Door conducted a toy drive last year at their collective which was able to collect hundreds of toys and helped bring a positive light to our community.
$10 at the door / For more information please visit http://www.safeaccesssd.com/p/events.html
This event is proudly brought to you by: San Diego ASA, Legal Cannabis Institute, The Green Door Collective, Law Offices of Kimberly R. Simms, Association of Clinical Dispensaries, KUSH Magazine, NUG Magazine, Proteus 420, The Women of Marijuana, and The Law Offices of Melissa Bobrow, and many others!
Get Involved, get active, make a difference!
Join ASA – www.safeaccessnow.org
Join us on Facebook www.facebook.com/SanDiegoASA