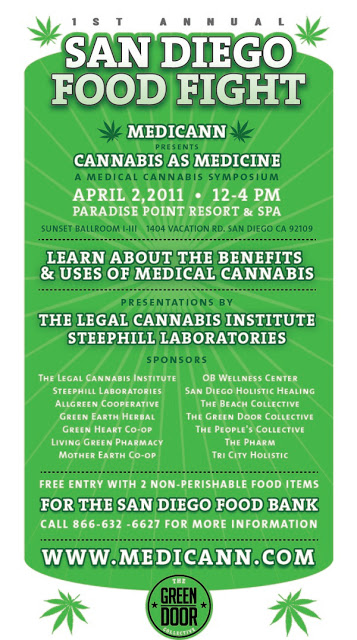 April 2, 2011 12 – 4 PM
Paradise Point Resort & Spa – Sunset Ballroom I-III
1404 Vacation Rd. San Diego, CA 92109
Learn about the benefits and uses of medical cannabis!
Featured Speakers:
• Jean Talleyrand, MD: "A Historical Review of Medical Cannabis Use in Our Society"
• Mark L. Rabe, MD, ABIHM: "A Scientific Review of How Medical Cannabis Works to Improve the Health of our Patients"
• John "Barney" Welsh, MD, PhD: "Medical Cannabis and Diabetes"
• Eugene Davidovich: "Veterans for Medical Cannabis"
• …and more!
Presentations by:
• Legal Cannabis Institute
• SteepHill Lab
Sponsors:
• Legal Cannabis Institute
• The Green Door
• Stop the Ban SD
• Patients Out of Time
• Veterans for Medical Cannabis
Interested in becoming a sponsor? Contact Jason West at j.west@medicann.com
Admission is FREE w/ donation of 2 food items for the San Diego Food Bank