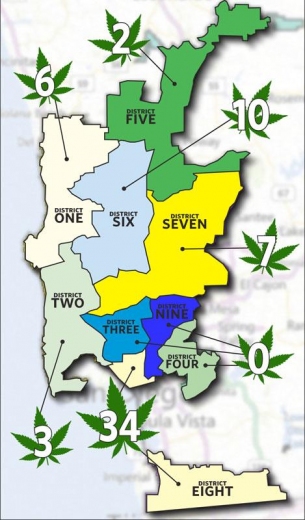 This morning San Diego CityBeat released the map analysis of the proposed ordinance for the City of San Diego regulating medical marijuana dispensaries. The ordinance Interim Mayor Todd Gloria promised to bring to council in January, and one currently going through community planning groups.
New medical-cannabis plan is a prescription for restriction
Draft ordinance could effectively ban pot dispensaries in some San Diegodistricts
Imagine if the city shut down all the corner drug stores and allowed them to open in only a few neighborhoods. Then imagine you're sick and rely on public transportation.
Soon this may not be far from reality for medical-cannabis patients in San Diego, according to a mapping study done by the San Diego County Association of Governments and obtained by CityBeat.
The most recently drafted plan to regulate dispensaries has medical-cannabis storefronts effectively prohibited in three City Council districts, while 10 or fewer would be allowed in each of five other districts. Roughly half of an estimated total 62 potential dispensary sites in the city would be located near the U.S.-Mexico border in Otay Mesa.
"There is no reason why folks that are sick, dying in many cases, should be forced to travel long distances, somewhere outside their neighborhood, somewhere to the far-flung industrial areas of the city to get their medicine," said Eugene Davidovich, Americans for Safe Access San Diego chapter president. "It's not appropriate. It's not how patients should be treated in this city."