March 6, 2014
By Terrie Best – San Diego Americans for Safe Access Court Support Coordinator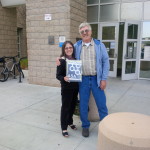 San Diego, CA – Day two of pretrial motions for Deborah and Dennis Little took place yesterday in the Vista Courthouse as what is referred to as 402 hearings ate up most of the day.  The hearings are a disclosure process the court uses to ascertain if witness testimony is relevant and just how far each witness will be allowed to go in that testimony.
First up was San Diego Sheriff Deputy Matt Stevens.  The deputy is a cross-sworn DEA Agent and the misguided soul who used a helicopter to fly over the Little's property in rural Ramona and raided their cannabis garden early one fall morning.   Last time I saw Stevens he was on the witness stand wearing a beer T-Shirt with a graphic of a naked lady.
The San Diego Sheriff Deputy DEA Agent, now in a suit and tie, took the stand about 8:30 AM yesterday and after direct exam, the defense began the ambitious and arduous process of trying to learn if Stevens has any experience in investigating legal medical cannabis grows, and if he does, does he ever use it and if he does, why he didn't use it in the case of the Littles.  Watching Stevens scoot around the playing field on the run from his own moral compass was not only exhausting and frustrating it was terribly sad given the Littles are as gentle and as needy as medical cannabis patients come.
I draw the conclusion that Stevens – who says he voted for Prop 215, the Compassionate Use Act (CUA) – has not entirely thought the law through. With all that training Stevens has detecting, investigating and arresting he has still mistaken the Littles for criminal cannabis growers. The deputy DEA agent doesn't understand that fragile people such as the Littles, who suffer with cancer, HIV/AIDS and arthritis, are the very folks he should be protecting, as a believer in the CUA.  Further, even though Stevens professes to know when a cannabis garden is for medical use, he failed to write down any of the Littles' medical conditions in his report at the scene of the raid – a perplexing element to leave out of an investigation from a deputy sheriff whose department oversees the San Diego county medical cannabis collective laws.
The misguided yet self-disclosed compassionate Stevens was the sole expert to go before the Honorable Richard Munroy  – our youngish, ex-prosecutor judge. At the end of questioning Judge Munroy admonished DEA agent Stevens for not complying with an evidence-collecting statute in the case, telling him a "fashioned legal remedy" was put in place because of this non-compliance.  The sanction, in place because of DEA antics, formally restricts the prosecution from perpetrating the fallacy of the unsubstantiated weight of 640 pounds, in favor of the also unsubstantiated weight of 118 pounds of cannabis evidence, during trial.
The defense had three expert witnesses, two physicians: Dr.'s Michael Borer and Mark Rabe as well as Bob Riedel, a former collective operator and co-founder of the newly-formed Alliance for Responsible Medicinal Access (ARMA), and my friend.
Both doctors described how they examined the Littles and how they are advised by the California Medical Board to avoid discussing cannabis use and dosages in examinations.  The CMB recognizes the therapeutic benefits of cannabis and advocates studies to solve the dosage question. Dr. Rabe explained the difficulty in determining how many plants are medically necessary for patients because of the unpredictable results of farming.  Defense counsel, Lance Rogers for Dennis Little and Nathan Shaman for Deborah, were also able to touch on the difficulty with incongruent state and federal cannabis laws – highlighting the inherent problem of local law enforcement being cross-sworn to enforce federal law as Deputy DEA Agent Matt Stevens is.
In his questioning of  both doctors, prosecutor Brock Arstill wanted to make much of the fact that the physicians were not primary care doctors (they are medical cannabis specialists just like an eye doctor is a specialist); that the patient visits took place in a 15 minute period (most doctors office visits are 5-20 minutes); that the doctors relied on patient reporting to aid in diagnosis (without patient reporting in any named clinical setting diagnosis reliability plummets); as well as other biases.  So far Deputy District Attorney Arstill has been mild-mannered – a refreshing change from the typical antagonism medical cannabis patients have endured in court.
Bob Riedel, the defense expert in medical cannabis cultivation and yields, took the stand shortly before 2:30.  After his testimony on his cultivation experience; his knowledge of collective growing; the difference between yield expectation in an indoor versus an outdoor cannabis grow and crop failure rates, the judge decided to limit the range of questioning to what Bob could tell the jury about the Little's grow. What remains of the evidence collected at the raid of the grow will be viewed by Bob Riedel and all attorneys sometime before trial begins. Jury selection is scheduled for Monday, March 10th, 2014 at 9:00AM.
Both of the Littles took the stand and we heard heart-breaking testimony from these lovely people about their struggles and attempts to lawfully use the medicine that helps make their days bearable.  It pains me to have had to watch it and it's difficult to write about except to say they are heroes and very brave.
Please plan to visit the Littles in court next week.  They will be in Department 22 of the Vista Courthouse at 325 S. Melrose Dr., Vista, CA 92081 each day but Friday the 14th.   Having turned down a misdemeanor to fight for their rights as patients, and being among the sickest patients San Diego Americans for Safe Access supports, the Littles certainly deserve our care and comfort. Also, a special thank you to the doctors who agreed to testify and to Bob Riedel who was available as an expert cultivator, they are all very crucial to the case.
BACKGROUND: 
Dennis and Deborah were legally cultivating medical marijuana for their own personal use. On October 18, 2012 members of Team 9 of the DEA's Narcotics Task Force raided the Little's home and property early in the morning. Rather than the large commercial growing operation they expected to find, the DEA agents found a garden of 29 marijuana plants. Deborah has suffered from HIV/AIDS for 20 years, has fought cancer, and has suffered from a number of other debilitating illnesses.Dennis has suffered from neuropathy and depression for years. The Littles began using medical marijuana as a last resort to treat their pain, particularly for Deborah who had suffered so gravely from the cocktail of medications she had to use to treat her HIV.
After the DEA removed the Littles' marijuana garden and confiscated all of their medicine, they proceeded to weigh the evidence and destroy almost all of it at an undisclosed location. The Littles were then charged with possession for sale and cultivation of marijuana. At the preliminary hearing, Deputy Matt Stevens stated that, in total, he seized more than 640 pounds. However, there are no viable pictures, video, or other evidence to corroborate that testimony. As such, the Littles have never had the opportunity to test the DEA's incredible assertions by analyzing and testing the evidence themselves to demonstrate that, in fact, they were cultivating an amount reasonably necessary for their medical needs.  They are now enduring a jury trial.
More articles on this case:
http://www.safeaccesssd.com/?s=the+littles&x=6&y=6
http://blog.sfgate.com/smellthetruth/2013/03/11/little-justice-san-diego-seniors-indicted-for-medical-pot-garden/
http://www.utsandiego.com/news/2013/mar/23/ramona-couple-medical-marijuana-prosecution/