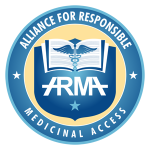 The Alliance for Responsible Medicinal Access has announced the Honorable Jan Goldsmith, San Diego City Attorney, as the keynote speaker for the 1st Annual Responsible Access Awards Gala!
ARMA invites San Diego ASA – and all stakeholders – to join them on Friday, December 5th, at Tango del Rey, in celebrating a historical first year and learn what the trade association has planned for 2015.
"This will be an exciting evening complete with a keynote address from the Honorable Jan Goldsmith, exhibitors, a dinner buffet, beer and wine, an awards ceremony, live music and dancing. Event begins at 6PM. Dinner, keynote address, awards at 7PM." – ARMA
See the official event flyer at the bottom of this post.
If you are interested in sponsorship opportunities, please contact info@responsibleaccess.org for details.
WHAT: Responsible Access Awards Gala
WHEN: Friday, December 5, 2014 – 6pm
WHERE: Tango Del Rey – 3567 Del Rey St. San Diego CA
Tickets:
$  75 – ARMA Members
$100 – Prospective Members
$125 – At the Door
To buy tickets, please click on the button below. Seating is limited.
Buy Ticket Online