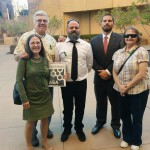 March 4, 2016
By Terrie Best – San Diego Americans for Safe Access
San Diego, CA – It is hard to say exactly when the San Diego District Attorney's Office lost their cannabis extraction case against legal patient John Mazula. His friends would say it was when the DA chose John to victimize; many activists say it was when John hired brilliant cannabis defense attorney, Michael Cindrich. Courtroom spectators might say it was directly after Mr. Cindrich crushed it during closing arguments yesterday afternoon. Or, right after cannabis scientist Andrew Pham's expert testimony made the DEA chemists look like goofballs. And, when I asked the jury foreman, he said it was when prosecutor Matt Carberry rested his case without having proved any of what was alleged.
Yesterday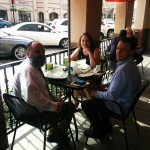 after closing arguments the jury left the courtroom to begin deliberations at 4:04PM. We all went our separate ways with plans to return today to wait for a verdict. At 4:30 a text came in that the jury had already reached one. Stomachs churned. It was too fast! Or, was it? I was in my car on the freeway. I was desperate to return to hear the decision read aloud in court. I was scared for John and his wife Tracy. How could the jury have reached anything but a not guilty verdict, I asked. But this is conservative El Cajon, I answered. Our chapter chair Marcus Boyd, available so many times for me on the phone through this case, helped talk me through the shock and fear. I'm ashamed of the way I drove.
I didn't have to suffer for long because 15 minutes later John texted me "not guilty" and with that the two year long ordeal for the Mazula family was over. It would be all fun and celebration from here and I wondered why we ever worried.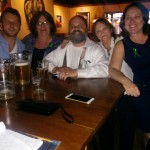 I pulled into the El Cajon courthouse parking lot just in time to see one of John's jurors. He was my favorite. I skidded to a stop because I wanted to thank him, hug him and ask him a boat load of questions. He turned out to be the jury foreman. He gave me a glimpse of what happened in that jury room. In the first few minutes the 12 introduced themselves, then at exactly 4:20, a fact that made some of them chuckle, they took their first and only poll. Without hesitation each juror at the table one-by-one pronounced John not guilty. Then they discussed why. The jurors blamed the police, they knew the case was poorly put together with no evidence to convict John. No large vats of concentrates, no butane tank to show, no drug lab. It was a manufactured case. It was not a textbook butane extraction case like Carberry had bellowed at the jurors in his closing argument. The case against John was vapor, a waste of time and resources and the jurors took ten minutes to destroy it. So, the question is answered, the prosecution never lost the case because they never had one. John was not guilty, the DA only tried to make 12 people believe he was.
If the prosecution's case went south before it began, the defense's case was unstoppable. Mike Cindrich had witnesses, he had documents, unlike Carberry he had proof and it showed John's innocence. John took the stand himself which was brave and also heartbreaking watching him endure it after he had endured so much. The two expert witnesses William Britt and Andrew Pham did excellent jobs. The science in the case was complex. Andrew, who probably is good at everything he does, skillfully educated the jury on extraction processes, tests he's validated and other pioneering cannabis science. It was thrilling to witness the evolution of how these cases are tried and there were a lot of supporters in the room to see it. The San Diego cannabis community has resources, we have experts, we have advocates and we are not victims. Please do not plea to a cannabis case in San Diego. There's no longer any need.
A ten minute not guilty verdict is a beautiful thing especially when it wipes the floor with a team of individuals who with intent and purpose set out to destroy a family. My heartfelt congratulations on the victory, John and Tracy! I hope you both are relaxing and joyful today. You are vindicated and everybody knows it.
PRIOR ARTICLES ABOUT THIS CASE
March 2, 2016 – Perjury Entangles Sheriff Deputy in Embarrassing Web As Activists Look On
February 27th, 2016 – Lost Evidence at Issue in Medical Marijuana Concentrates Case
---
PRIOR CASES
Re-filed Medical Marijuana Case Problematic for Judge in San Diego, Orlosky Charges Dismissed!
DEA Agents Don't Lie, Says San Diego Judge in Medical Marijuana Case