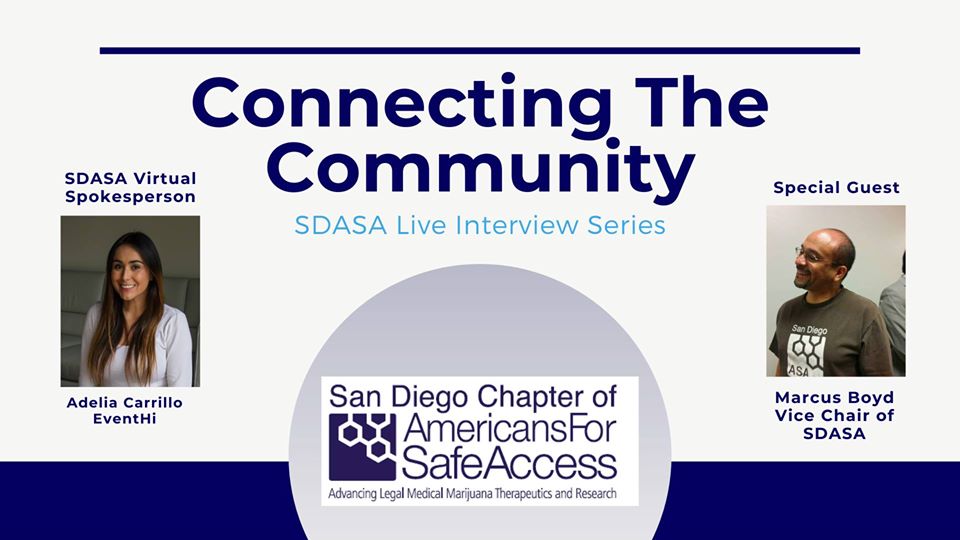 Connecting the Community is a bi-weekly interview series with local San Diego Cannabis community members helping educate, advocate or help move the local community forward.
This month's interview is with Marcus Boyd, Vice Chair of San Diego Americans for Safe Access.
Meet Marcus Boyd: Marcus Boyd is a disabled Navy veteran and small business owner in Imperial Beach, CA. After experiencing a death in the family where his loved one was denied cannabis medicine in hospice, Marcus joined San Diego Americans For Safe Access as the Vice Chair in 2009.
Marcus planned and participated in numerous protests, vigils, court support and civic actions over the decade. Including the Stop The Ban campaign of 2011, where SDASA mailed over 3,500 testimonials from patients to San Diego City Council to force changes in an ordinance that mandated closure of medical cannabis collectives.
In 2012 Marcus took part in a Yes Men action where SDASA, in collaboration Canvass for a Cause and the San Diego Museum of Art pulled a prank on the Feds in the mischievous Yes Men style.
Marcus was also the campaign manager of the Yes on S campaign in 2012. Ballot Measure S, had it passed would have mandated medical cannabis collective storefronts in Imperial Beach.
Marcus helped implement SDASA's raid response and is a seasoned raid responder with two bullhorns to keep DEA accountable. Having been raided himself he advocates for CopWatch and spends his SDASA time as the chapter's security and technical expert and remains its Vice Chair.
Meet SDASA Virtual Spokesperson: Adelia Carrillo
Adelia Carrillo is the CMO of EventHi. Eventhi is an online ticketing platform for cannabis-related events. With Adelia's professional experience she is set to help bring life to EventHi's brand, vision and mission.
With her roots in the corporate and consumer electronics industry, her passion for technology, business and marketing has been a key strength in her transition into the cannabis space. Adelia is building an inspiring yet prominent voice in the world on the topic of cannabis and the event industry.
About San Diego Americans for Safe Access:
San Diego Americans for Safe Access (ASA) is the local chapter of the largest national member-based organization of patients, medical professionals, scientists and concerned citizens promoting safe and legal access to cannabis for therapeutic use and research. ASA works to overcome political and legal barriers by creating policies that improve access to medical cannabis for patients and researchers through legislation, education, litigation, grassroots actions, advocacy and services for patients and the caregivers.
ASA has over 30,000 active members with chapters and affiliates in more than 40 states. San Diego ASA helps protect the rights of cannabis patients. We are working to change local and federal policy to meet the immediate needs of patients as well as create long-term strategies for safe access and programs that encourage research. Learn more at http://www.safeaccesssd.com