By: Don Duncan, Americans for Safe Access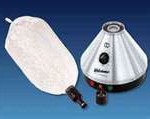 California Assemblymember Tom Ammiano (D-San Francisco) has introduced a bill that will exempt supplies used to grow or ingest medical cannabis from the state's drug paraphernalia laws. These supplies are currently sold to medical cannabis patients under the pretense that they are being used to grow other plants or for smoking tobacco. The bill would exempt testing supplies, grow equipment, pipes, bongs, vaporizers, and more – so long as they are used for legal medical purposes. Amminao's AB 1811 would let vendors, legal patients,
and primary caregivers openly discuss the proper use of the supplies without fear of prosecution under the antiquated paraphernalia laws.
This is a common sense improvement is state law. Legal medical cannabis patients and merchants who sell accessory products to them should not have to play games in grows stores, smoke shops, and other retail outlets. AB 1811 lets them behave like other ordinary buyers and sellers in the marketplace. Let's hope that Assemblymember Ammiano's colleagues support this easy fix to state law when his bill is heard before the Assembly Public Safety Committee in Sacramento on March 23.