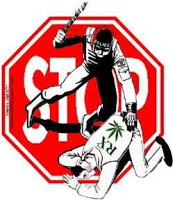 WHAT: Protest against the Unfair Trial of Jovan Jackson
WHEN: 8:30 – 9:30am Friday, September 17th 2010
WHERE: 220 W Broadway, San Diego CA 92101
SAN DIEGO – Mr. Jackson is facing a second trial, less than a year after being acquitted by a jury of all medical marijuana related charges just a few months ago. In State court where medical marijuana is legal, Jackson has been denied the right to a fair trial by being denied the opportunity to present the medical marijuana defense to the jury even though Jackson is a legitimate patient.
Today the prosecutor Chris Linbergh spent the morning arguing with the Judge as to why ALL of Mr. Jackson's supporters should be excluded from the courtroom. Linbergh requested that specifically the ASA shirts not be allowed in the courtroom or the courthouse, that Eugene Davidovich, San Diego ASA Coordinator be banned from being present inside the courtroom, as well as that the retired / disabled Navy veteran, a friend of Jovan's who has come to Jovan's hearings in the past and wore his NAVY dress blues, not be allowed to wear the uniform.
The Judge dismissed these requests as being ridiculous and some in violation of the first amendment. Judge Shore did however allow Linbergh to keep the ASA shirts out of the courtroom.
Today following the arguments to limit Mr. Jackson's support, Jury Selection began. It is expected that Jury Selection will be finished today, with the opening statements in the trial to start on Friday morning at 9:00am in Department 15.
Please come out tomorrow to the courthouse at 8:30am and help us send a strong message that we will not tolerate this unfair persecution of legitimate patients and are outraged at the attempt to keep the community out of the courtroom.
Dumanis' office is not just waging a fierce fight against patients, they are also actively breaking the law and attempting to keep this case as quiet as possible. Please help spread the word about the case, the protest and this injustice.
Bring a friend and come to the protest tomorrow. Everyone who attends the protest will receive a free ASA shirt, sponsored by Marcus Boyd. Although the shirts cannot be worn in the actual courtroom, outside in the hallways, the are allowed.
Your support is critical for this trial!
San Diego Americans for Safe Access
www.safeaccesssd.com
Get involved, get active, make a difference!
Join ASA – www.safeaccessnow.org