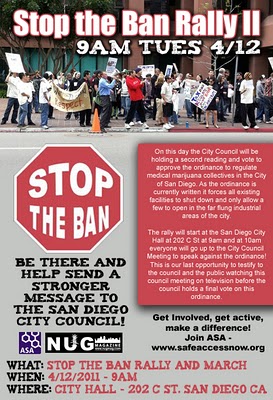 The San Diego City Council will be holding a second reading and vote to approve the ordinance to regulate medical marijuana collectives in the City of San Diego.
This is what is listed on the current agenda:
ITEM-55: Amendments to the Land Development Code and the City's Local Coastal Program pertaining to Medical Marijuana Dispensaries; and Amendments to the San Diego Municipal Code relating to Medical Marijuana Regulations for Qualified Patients, Caregivers, and Consumer Cooperatives.
ITEM DESCRIPTION:
There are two ordinances under consideration for approval. The first relates to land use issues pertaining to medical marijuana cooperatives (Land Use Ordinance). It would define the term "medical marijuana cooperative" and establish a process by which medical marijuana cooperatives can be permitted in the City of San Diego. The second ordinance pertains to public safety aspects of medical marijuana (Public Safety Ordinance). It reflects the recommendations of the Medical Marijuana Task Force (MMTF) as they relate to patients and caregivers, the structure and operation of collectives and cooperatives, and police enforcement.
The rally will start at the San Diego City Hall at 202 C St at 9am and at 10am. At 10am everyone will go up to the City Council Meeting to speak against the the ordinance!
WHAT: STOP THE BAN RALLY AND MARCH
WHEN: 4/12/2011 – 9am
WHERE: CITY HALL – 202 C St. San Diego CA
BE THERE AND HELP SEND A STRONGER MESSAGE TO THE SAN DIEGO CITY COUNCIL!
Action Alert: Tell Mayor Jerry Sanders and the City Council to Amend the Ordinances Restricting Dispensing Centers! Click here to send an email to the Mayor!