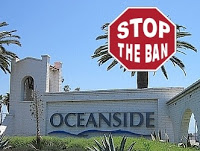 Help collect letters to Stop the Ban in Oceanside!
MAY 7TH 11:30AM OCEANSIDE PIER – VOLUNTEERS NEEDED!
Join patients, advocates and concerned citizens at the Oceanside Pier at 11:30 on Saturday May 7, 2011 in front of the Oceanside Pier Sign on the corner of North Pacific St. and Pier View Way for a day of educating Oceanside residents about the impending ban on safe access. After having enacted a moratorium over a year ago and promising the community to move towards regulations, the Oceanside City Council took a completely different direction and is working towards an outright ban on medical marijuana collectives in Oceanside.
The goal on Saturday May 7 will be to gather letters from Oceanside residents in support of safe access and in opposition to the ban. All letters collected will be mailed directly to the Oceanside City Council Members and will be urging them to create reasonable and safe regulations for medical cannabis patients in Oceanside, rather than ban access outright.
WHAT: Oceanside Stop the Ban Letter Drive
WHEN: May 7, 2011 – 11:30am
WHERE: Oceanside Pier – Corner of North Pacific St. and Pier View Way
For more information please contact Eugene Davidovich at sandiegoasa@gmail.com or call 619-621-8446
San Diego Americans for Safe Access
www.safeaccesssd.com
Get Involved, get active, make a difference!
Join ASA – www.safeaccessnow.org