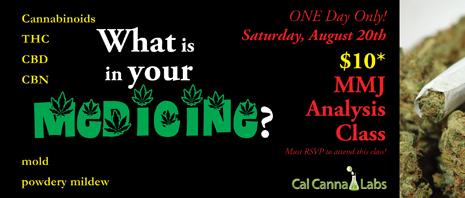 Legal Cannabis Institute Presents
What's in Your Medicine? -Saturday, August 20, 10:00am to 11:30am
In our ongoing educational support of medical marijuana community, we are offering a MMJ Analysis Class. The Legal Cannabis Institute is on a mission to help all medical marijuana patients understand their medicine. The team from Cal Canna Labs will be here to discuss THC, CBDs, mold and so much more. They will be conducting live tests during class.
Everyone who works in this industry can benefit from learning the ins and outs of cannabis testing. Your staff needs to be informed and educated about patient rights and responsibilities; they are the front line for most patient information. Join us for a class and feel empowered to be of service to your patients.
Please RSVP online or phone for yourself and your staff by Friday, August 19th. Space is limited. We invite your participation in this exciting educational adventure!
Nicole Scott
Executive Director
858-864-8787
www.legalcannabisinstitute.com
LCI Campus, 10459 Roselle Street, Suite A, San Diego, CA 92121