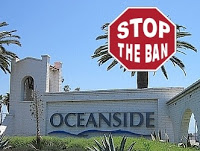 By: Eugene Davidovich, San Diego Americans for Safe Access
The Oceanside City Council had ample opportunity to develop reasonable regulations for medical marijuana patients in Oceanside during their two year moratorium on this issue. Instead, the City Council let the moratorium expire, and have launched an all out assault/eradication effort on the existing facilities through lawsuits, injunctions and threats.
The City has even gone as far as changing its zoning laws during the moratorium to prevent dispensaries from opening unless they applied for a change in the code which would automatically be denied.
Patients in Oceanside are sick and tired of this continued bias driven effort to eradicate safe access to their medicine. Continued delays, stall tactics, lawsuits, threats and harassment have resulted in an environment of fear where sick and dying patients will be forced to obtain their medicine from illicit sources rather than from safe, reliable and regulated dispensing centers in the City.
In response to the continued delays and the City's eradication effort, advocates, patients, and Oceanside residents will be protesting the Council's patient eradication efforts in front of the Oceanside City Hall on Thursday, August 31, 2011 from 4-6pm.
Join Oceanside residents, patients, advocates, and concerned citizens on Thursday August 31 and help send a strong message to the City Council, that patient's rights must be protected and that the citizens of Oceanside are tired of seeing their tax payer's dollars wasted on bias driven eradication efforts!
WHAT: Protest against Oceanside City Council Patient Eradication Effort
WHEN: Wednesday, August 31, 2011 – 4-6pm
WHERE: Oceanside City Hall – 300 N. Coast Highway Oceanside, CA 92054
One of the collectives currently under attack by the City of Oceanside last month, after being forced to shut down by the City through an emergency restraining order, won a stay on the order in court and was able to reopen pending the next hearing. The next hearing is scheduled for August 12 at 1:30pm in Department 28 at the Vista Courthouse – 325 South Melrose Vista, CA
WHAT: Court Support for North County Collective
WHEN: Friday, August 12, 2011 – 1:30pm
WHERE: Department 28 – Vista Courthouse – 325 South Melrose Vista, CA
Please take the time to attend the hearing and show support for the patients of this collective as they struggle to defend their rights against this overzealous, bias driven effort by the City to eradicate the sick and dying from Oceanside.
For more information contact sandiegoasa@gmail.com