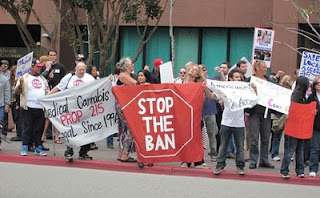 The time has come to stand up and speak out against the mass eradication of Medical Cannabis in our City and State!
The aggressive, anti-medical marijuana efforts of Obama's Justice Department, including more than 100 DEA raids, dozens of federal prosecutions, as well as threats to landlords and elected officials, have harmed more law-abiding patients than President Obama's predecessor George W. Bush. The medical cannabis community is under attack, and our voices must be heard!
Activists across the country are preparing to tell Obama to end federal interference with state sanctioned medical cannabis programs through a Nationwide Rally for Safe Access on February 16th at Noon!
The San Diego Rally will be held at the San Diego Federal Courthouse (940 Front St. San Diego CA), Thursday, February, 16, 2012 at 12:00pm
RSVP for the rally on Facebook: http://www.facebook.com/events/346166642072461/
During Medical Marijuana Week, (2/13/12-2/17/12), Here are some other ways you can get involved:
1. Call the White House, 202-456-1111, and tell Obama to keep is promise to 'not use Justice Department resources to try and circumvent state laws', demand he stop putting politics before science, and urge swift action to reclassify cannabis immediately.
2. Contact your Members of Congress, 202-224-3121, to demand sponsorship of legislation to reclassify cannabis, end federal interference in state programs, and provide licensed patients and provides a defense in court.
3. Join the fight to protect and advance the rights of medical marijuana patients! More information at www.AmericansForSafeAccess.org