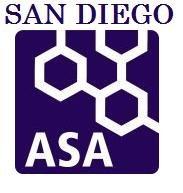 San Diego ASA Members and Friends,
Thank you to everyone who came out to the March 2012 San Diego ASA chapter meeting last night at the La Jolla Brew House. The meeting was a tremendous success!
Last night we discussed the latest news from ASA national, heard from attorney Lance Rogers who provided updates about state wide litigation effecting patients' rights, Canna Chef Kim gave a lesson on making canna butter, Larry Sweet discussed the difference between cultivating with cannabis seeds vs. clones, James Stacy provided an update on his federal case and Marcus Boyd discussed our Imperial Beach Americans for Safe Access efforts.
In addition last night, we heard from Hal Pilotte a medical marijuana patient facing federal prosecution in San Diego whose case will be moving forward in the coming weeks and who needs our support.
At last night's meeting we collectively raised over $100 dollars in donations for the chapter as well as had a special guest stop by; Brian Pease, a local freedom fighter attorney, animal rights activist, and supporter of medical marijuana patients' rights running for San Diego City Council District 1 against incumbent Sherri Lightner. 
Please mark your calendars for next month's main chapter meeting which will be held on April 10th from 7-9pm at the La Jolla Brew House. Chapter Elections are coming up next month, so please come out and help us select our chapter's Chair, Vice Chair, Treasurer and Secretary! If you are interested in being involved with the chapter board or running for any one of the 4 elected positions, please contact sandiegoasa@gmaill.com or reply to this email.
Stay tuned for videos from the meeting to be posted on our YouTube channel at: http://www.youtube.com/user/SafeAccessSD and visit our website for more information at www.safeaccesssd.com
Also, please join us in Imperial Beach tomorrow, Thursday, March 15, 2012 for the Imperial Beach Americans for Safe Access monthly meeting at 1233 Palm Ave. Imperial Beach from 6pm-7pm and check out the new IB website at www.SafeAccessIB.org
Eugene Davidovich, Chapter Coordinator
San Diego Americans for Safe Access