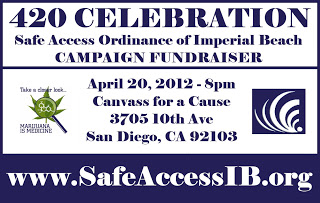 The Campaign for Safe Access in Imperial Beach is off to a great start. Over the last three weeks we have been able to make some amazing achievements in the realm of medical marijuana advocacy in San Diego!
With the help of our partner Canvass for a Cause and our amazing ASA volunteers, throughout San Diego County over the last three weeks we have spoken about therapeutic use of cannabis to over 1600 residents! 1100 of them lived in the City of Imperial Beach and over 750 of them signed the petition to repeal the city's ban on safe access and to replace it with reasonable regulations.
This work has resulted in the creation of the largest and most active field program on medical cannabis in San Diego!
Once we win in Imperial Beach, we will move onto other San Diego municipalities with unfair bans and restrictions.
To celebrate 4/20 and help raise more awareness and money for the campaign in Imperial Beach, San Diego Americans for Safe Access has teamed up with Canvass for a Cause for a 420 Celebration and Campaign Fundraiser!
Please join us in the heart of Hillcrest (3705 10th Ave San Diego CA 92103), this Friday night starting at 8pm for an amazing night filled with great entertainment, silent auctions, speakers, raffles, and refreshments!
WHAT: 420 Celebration and IB Campaign Fundraiser
WHEN: Friday, April 20, 2012 – 8pm – 12am
WHERE: Canvass for a Cause – 3705 10th Ave San Diego CA
The evening will include:
HASHtime SHOW
The coolest spoken word band, The Last Barfighter, will be rocking out with some conscious beats, flows and music to make you groove! Cathouse Thursday will be rockin' out the night as well as performance pieces by the beautiful and Hillcrest-famous Alexis! DJ Matt will be spinnin' the whole night with some irie reggae and dance music, and more! Come prepared to roll out with your bowl out and have a great time!
SENSIMILLA SPEAKERS
Prescription medications often have dire consequences on the health of patients, but cannabis offers significant and safe relief for many. Hear from patients whose lives have been saved by cannabis, why we are breaking the silence on the Day of Silence, and what we can do, as a people united, to rise up for patient's rights and safe access!
MMJ WINNERS
We will be hosting both a raffle and silent auction, to include local art pieces, cannabis cook books, glass pieces, doctor's recommendations and more! Prizes will be announced through out the night with the largest items saved til the end.
MARIJ-EQUALITY & CANNABIS CORNER
Info on medical marijuana, cannabis, hemp and it's healing properties, as well as what we've been advocating for here in San Diego!
GANJA GEAR
Our decoration stations will have everything you need to have the coolest mask for the night!
Sliding scale donations at the door; no one will be turned away for lack of funds. All donations will support the Safe Access Ordinance of Imperial Beach campaign!
I look forward to winning this campaign with you and hope to see you on 4/20!
Thanks,
Eugene Davidovich, Chapter Coordinator
San Diego Americans for Safe Access
www.safeaccesssd.com
Check out our new IB Campaign website: www.SafeAccessIB.org