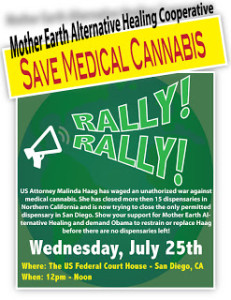 Wednesday July 25th at 12pm at the San Diego Federal Court House on 880 Front St. the medical marijuana community will be rallying against the federal attacks on Proposition 215, SB420 and the will of California voters who overwhelmingly support safe access!
After closing down over two hundred dispensaries in the City of San Diego, U.S. Attorney Laura Duffy has set her sights on Mother Earth's Alternative Healing Cooperative, the only Sheriff Permitted medical marijuana dispensary in the four most southern counties in California. Last week, the Coop received an eviction notion to cease operation by Wed, July 25. In addition, Duffy is now threatening lawmakers with federal prosecution for adopting ordinances that regulate dispensaries. She has completely gone against the position of her boss, Attorney General Eric Holder and the Obama Administration's promises.
During his election, President Obama promised not to target those in compliance with state law, in fact just weeks ago Attorney General Holder testified before Congress that his Justice Department would only undertake enforcement action against medical marijuana organizations operating "out of conformity with state law." US Attorney Laura Duffy's actions prove otherwise.
Just today we saw more attacks against the Medical Cannabis Community here in San Diego, the local police working in collaboration with Duffy's office parked their squad cars all day at Green Power a collective located in National City, and prevented patients from coming in to get their medicine, while in the Pacific Beach area the Narcotic Task Force was busy raiding another facility.
These attacks must end and patient's rights must be respected. Please come out tomorrow to the rally at noon at the Federal Courthouse help us send a strong message of opposition to these attacks on Proposition 215, SB420 the will of California voters, and those most vulnerable in our communities.
WHAT: Rally To Save Medical Cannabis
WHEN: Wednesday 7/25/2012 12pm
WHERE: San Diego Federal Courthouse – 880 Front St.
For more information contact sandiegoasa@gmail.com