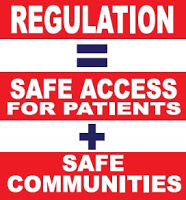 Over the last few months we have seen safe access taken away from thousands of legitimate patients in San Diego through raids, arrests, and intimidation by our local City Attorney Jan Goldsmith, District Attorney Bonnie Dumanis and U.S. Attorney Laura Duffy. The community however, has not sat back quietly and allowed this to happen. This November, there are four initiatives on the ballot in San Diego County and if passed would create sensible regulations for patients, clarity for law enforcement, and clear rules of the road for those wanting to open collectives and cooperatives.
With the help of our coalition partners, our chapter has organized the efforts in Imperial Beach to repeal their ordinance that prohibits all storefront collectives and cooperatives and labels 4 member collectives as "large scale". To combat this madness, our chapter and many of you, helped gather signatures to get the Safe Access Ordinance (Proposition S) on the ballot in Imperial Beach. Not only did we get over 15% of the registered voters to sign the petition in less then 3 months, but we also fought off the city's deceitfully crafted competing ordinance and are working to organize against the opposition.
In Imperial Beach, the opposition is fierce. This week, they sent out a mass mailer to all the registered voters in Imperial Beach calling our efforts deceitful, labeling the local IB effort as out-of-towners, and 'warning' the public that they are being "hoodwinked". The most outrageous part of their mailer is the opposition's claim that they actually support safe access to medical marijuana and that the current ban is a reasonable ordinance. The prohibitionists are organized, well funded, and are hoping to scare voters into opposing Proposition S.
The community needs your help now more than ever! This week there are three days where you can directly impact the work in IB and other cities in support of safe access to medical marijuana!
10/20 – SATURDAY – @7pm – Join us for a Celebration in Support of Safe Access at the Canvass for a Cause HQ in Hillcrest (3705 10th Ave. San Diego, CA 92103) Costumes, comedy, raffles and great reggae music, with all proceeds going to support Prop S in Imperial Beach!
10/22 – MONDAY – @11am – Lit. Drop in Imperial Beach – we will be delivering brochures to registered voters and need your help. At 11am we will be meeting at the campaign office (1233 Palm Ave) and with your help getting out into the community to drop off our brand new Prop S brochures that educate the voters on what the proposition actually does as well as address some of the concerns raised by the opposition. The day will start at 11am and end at 6pm with Pizza at the campaign office. If you are able to commit to a volunteer shift on Monday, please reply to this email and let me know.