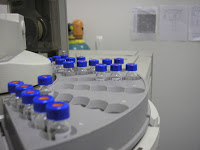 By: PharmLabs
Pharmlabs is one of many new and independent businesses striving to legitimize the medical marijuana industry. Established January 2012 in San Diego, California, PharmLabs is a professional laboratory that provides the medical marijuana community with a standardized platform of testing and analytical services to ensure patients have access to accurate levels of medically related compounds for specific prescribed needs.
So the question remains, why would anyone want to test the potency of active ingredients in medical marijuana? The fact is that quality control and potency testing of any approved drug in the regulated pharmaceutical industry is mandatory. Doctors prescribe medication based on the concentration of the active ingredient in the prescribed drug. Over or under administering of an active compound could have serious adverse effects on the patient. Knowledge of the concentration of the active ingredients in medical marijuana is an essential part of a patients treatment regiment.
 PharmLabs strongly believes that through lab testing they can help provide safe medicine for the medical marijuana community.
Pharmlabs strongly believes that through lab testing they can arm the patients in the medical marijuana community with the proper information to make an informed decision on the type of medicine they need to best combat their specific medical condition.
PharmLabs is owned and operated by two local, San Diego, Prop 215 patients. One of the owners Greg has a Business Marketing degree from San Diego State University and over 15 years of experience in the professional business world. The other owner KC has a degree from Arizona State in Physics in addition to a Masters degree in Environmental Engineering with an extensive background in chromatography.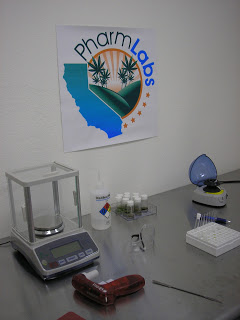 Potency testing one is the most common and important test performed on any drug that is to be administered to a patient. Potency testing offers a quantitative analysis of several common psychoactive compounds found in medicinal marijuana. Although hundreds of different compounds have been identified in marijuana, our potency testing establishes the amount of Tetrahydrocannabinol (THC), Cannabinol (CBN), and Cannabidiol (CBD) contained in a submitted sample of medical marijuana. We use an established scientific method using Gas Chromatography with a Flame Ionization Detector (GC/FID) for the separation and quantification of THC, CBN, and CBD. Our method has been established and validated to ensure consistent and accurate results that patients and providers can depend on.
The validated procedure used by PharmLabs to determine the cannabanoid concentration of medical marijuana samples incorporates the following important steps.
1. Approximately 1-2 grams of the sample is delivered to our lab then weighed and documented as received
2. The sample then goes through a drying process
3. Once dried, the sample is ground through a standardized sieve in order to generate a sample of uniform size and maximum surface area. This is necessary for a reproducible extraction process
4. A carefully measured amount of the sample is placed in an extraction vial where the cannabinoids are dissolved in solvent with a high affinity for the desired cannabinoids
5. The solvent is then separated from the sample and transferred to individual autosample vials
6. After a calibration using documented cannabinoid standards, each sample is individually measured using our gas chromatograph equipped with a flame ionization detector
PharmLabs prides themselves on being "Always accurate, affordable and fast!" PharmLabs simple to use website allows customers direct access to their private accounts through a unique customer log in and pass code that stores all of the customers testing data and certified results reports in one convenient place! From a customers private account they can review their current lab results, review a complete history of their past lab results, print their certified results certificates and labels compete with detailed graphs, purchase testing credits and place testing orders. PharmLabs offers potency pricing at a fraction of the cost of most all other laboratories. PharmLabs offers potency testing pricing that starts as low as $39.95 per test. The potency testing cost drastically reduces if you buy tests in bulk! For more information check out PharmLabs on the web at www.SDPharmLabs.com
Laboratory testing is the future for quality control in the medical marijuana industry. Upstanding, responsible medical marijuana dispensaries who care about the well being of their patients understand this and therefor test their entire medical menu to ensure patients always have access to safe medicine. Exceptional dispensaries and delivery services have taken a giant step forward towards the regulation of the Medical Marijuana Industry. They have done this by assuring they have quality control of all their medicines distributed by testing their entire medical menus with PharmLabs. Stop in or call one of these reputable services to see their test results of some of your favorite strains.
ASA members always receive 20% off at PharmLabs