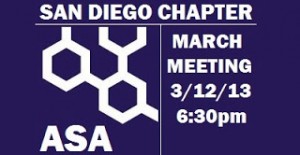 Join other like minded advocates, concerned citizens, and medical cannabis patients tomorrow night at the La Jolla Brew House for the chapter's monthly meeting. Find out the latest medical marijuana news from across the nation, state, county and city. See the latest draft of the City of San Diego's medical marijuana ordinance to be proposed at City Council this month and find out what zones medical marijuana collectives and cooperatives will be allowed to operate in.
At the meeting, you'll also get updates about the latest court cases both in State and Federal court and have an opportunity to sign up to get involved in the effort to bring safe access back to San Diego!
WHAT: March San Diego ASA Meeting
WHEN: Tuesday, 3/12/2013 – 6:30pm-9pm
WHERE: La Jolla Brew House 7536 Fay Ave La Jolla, CA 92037
From 6:30-7:30 we hold a networking / social hour with the meeting formally starting at 7:30pm.
We need patients, collective operators, lawyers, health professionals, and all interested parties from across the county to step up and help take the chapter to the next level in support of safe access. The best way to get involved is to attend our meeting Tuesday night!