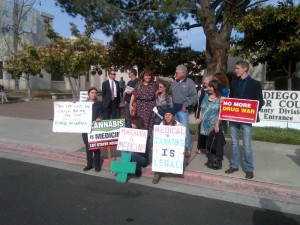 By Terrie Best San Diego Americans for Safe Access Court Support Coordinator
San Diego, CA – Dennis Little, an arthritis sufferer and his wife Deborah Little, who has lived with HIV/AIDS for twenty years and is battling cancer, were in court today – for what was to be a preliminary examination – along with their attorneys Lance Rogers, Charlotte Kornev and expert witness San Diego Americans for Safe Access' Kim Twolan.
Because Matt Stevens, the detective who oversaw the raid on the Littles' home, was not available for cross-examination by the defense, the preliminary exam hearing was rescheduled for March 28th, 2013 at 9:00a.m. George Lloyd, the prosecutor in the case, planned to have another officer testify to having read Stevens' police report but defense counsel opted to reschedule, preferring to question Stevens directly.
Following the reschedule, the Littles, their attorneys and courtroom advocates were greeted outside by Canvass for a Cause activists holding signs of support for the exhausted defendants. Amid the hugging and well wishes, Attorney Lance Rogers responded to questions about the egregious prosecution while Charlotte Kornev cared for a visibly ill and weakened Deborah Little.
In a further effort to help the couple, yesterday Prosecutor George Lloyd was the target of a citizen Stop and Dial in which medical cannabis activist group Canvass for a Cause staffers stopped citizens of San Diego County, talked with them about medical cannabis and provided a cellular phone to dial the prosecutor asking that charges be dropped against the very ill Littles.  The Stop and Dial action was extended to San Diego Americans for Safe Access members for participation. While in court today Lloyd acknowledged receiving over sixty calls and voicemails but was unable to say if charges against the Littles would be dropped.
If you would like to call George Lloyd and ask for compassion for the Littles, dial the Vista DA's Office at 760-806-4004; key 1 for English; key 4 to speak to an operator and ask for George Lloyd.
Here is a polite script:
Hello, I am calling for George Lloyd please?
Hello, Mr. Lloyd, my name is ________________________, I am a resident of San Diego and I'm calling to ask that you drop the charges against Dennis and Deborah Little.  Deborah has been an HIV/AIDS patient for 20 years and Dennis suffers from arthritis.  Their preliminary hearing is next week, please use your prosecutorial discretion to drop the charges and respect state law!
Both the Littles are medical cannabis patients and they grew their own medicine on their own property in a rural area of San Diego County.
After a prior month's helicopter surveillance, on October 17, 2012, a small army of cross-sworn agents, led by Deputy Sheriff Matt Stevens, stormed into the Little home and without even bothering to verify patient status, manhandled the fragile Littles, proceeded to interrogate them for hours, then ripped up the plants found on the property.  Then, on November 27, 2012, District Attorney Bonnie Dumanis filed felony criminal charges against the couple.
Cases like these put patients' lives at risk. The Littles are too frightened of the DEA and Dumanis' office to use their cannabis medicine which eases their pain and increases appetite.  The couple has asked for community support in their battle. If you are a patient or a patient advocate please consider calling George Lloyd or coming to the Littles' preliminary examination on March 28 at 9:00 AM beginning in Department 5 of Vista Court at 325 S. Melrose Dr., Vista, CA 92081.  The case will be assigned a courtroom which you can learn by asking the Bailiff in Dept. 5.
For more information please contact Terrie Best, San Diego Americans for Safe Access Court Support Coordinator at ilegalsmile@hotmail.com.
Other articles on this case:
http://www.safeaccesssd.org/2013/03/terminally-ill-senior-citizen-medical.html
http://blog.sfgate.com/smellthetruth/2013/03/11/little-justice-san-diego-seniors-indicted-for-medical-pot-garden/