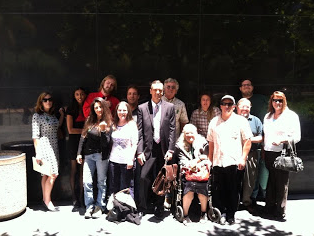 Day 1 (pre-trial motions)
By Terrie Best, San Diego Americans for Safe Access Court Support Coordinator
San Diego, CA – After a day and a half of delays finding a courtroom to try the Tim O'Shea case – in an overbooked courthouse that has no business wasting rooms on legitimate medical cannabis patients – the pretrial motions for Tim finally began in Department 48 of the Downtown Superior Courthouse.
On February 1, 2012, Tim was charged with one count of possession of marijuana for sale and one count of cultivation of marijuana, after law enforcement came on the property were Tim lived and found 16 medical cannabis plants growing.  The plants were confiscated and Tim was later charged even though he is a legal patient and the caregiver of his brother in-law, Rick Krukowski, also a legal patient with a disability.
The pre-trial motions began at 1:30 today before Judge Charles G. Rogers and had both sides attempting to disqualify witnesses.  Defense Counsel Mark Bluemel, argued that the District Attorney' office had for years been getting away with putting law enforcement witnesses on the stand and passing them off as experts when they in fact had no expertise in medical cannabis law.
Prosecutor, Deborah La Touche attempted to disqualify Dr. Michelle Sexton (a naturopathic doctor with four years of medical cannabis study as well as a pharmacology background and who is an Americans for Safe Access National Board Member) by arguing Dr. Sexton had no expertise in determining whether cannabis was for sale – an argument Mr. Bluemel dismissed as irrelevant since Dr. Sexton's testimony would only be about  that which she is more than qualified for:  medical cannabis efficacy and treatment related opinions.
Deborah La Touche then attempted to make the argument that Dr. Sexton had no doctor/patient relationship with either of the two patients the plants were being grown for and therefore her testimony was not relevant. Judge Rogers shot down La Touche using the analogy of expert witnesses in DUI cases also not having medical relationships with defendants but who are nonetheless qualified to testify as to the effect of alcohol on the body in those cases.
While Judge Rogers was fair and thoughtful in his point, Deborah La Touche is no stranger to being admonished by judges. Last year she was reprimanded by Judge Laura Parsky for refusing to look at exculpatory evidence in the Dexter Padilla medical cannabis case.  The Padilla case resulted in a hung jury and when La Touche expressed intent to re-file charges, Judge Parsky shot her down saying La Touche bordered on 'disingenuous' in the way she presented her arguments in the case.  Judge Parsky then dismissed the Padilla case in the interest of justice – a rare move for a judge and a humiliating moment for La Touche.
With regard to disqualifying the two witnesses – the law enforcement so-called expert and Dr. Sexton –  Judge Rogers settled the matter saying he would address relevance and qualification by way of sustaining and overruling objections to witness questioning as they occurred on the stand.
The remaining witnesses on the defense side will be given 402 hearings tomorrow June 13th, beginning at 9:00AM.  A 402 hearing is for the purposes of discovering witness relevance and on the list of witnesses are Rick Krukowski, the second patient in the matter, and Eugene Davidovich, San Diego Americans for Safe Access Chair and Chapter Coordinator and an expert on medical cannabis law.
There were several more motions having to do with text messages and their relevance, and a prior marijuana conviction Tim has, which Deborah La Touche attempted to exaggerate the amount on by saying Tim was convicted of possessing 114 kilograms when, in fact it was 114 grams.  The conviction is only an issue if Tim takes the stand and can be used to question his credibility as a witness and not on his propensity to break the law.
Along with the 402 hearings, La Touche's motion to deny Tim's medical marijuana defense will be argued tomorrow Thursday, June 13, 2013 as well.  Following that, the courtroom will be closed Friday and Monday for an in-house matter and a move to Judge Roger's new courtroom, Department 57 where jury selection will begin on Tuesday, June 18th.
The Prosecution's motion to deny Tim O'Shea's medical marijuana defense is a very important and egregious one. We need supporters to come to court and bear witness to the absurd notion that a qualified patient growing a small amount of cannabis for himself and another – whom he lives and cares for -is not entitled to avail himself of his rights under voter initiative 215.
La Touche's motion claims that since Tim is charged with the sale of medical marijuana and 215 is limited to personal possession, he should not be entitled to it.  This is a slippery maneuver and typical of the kind of unethical tactics coming from District Attorney and failed mayoral candidate Bonnie Dumanis' office in her desperation to circumvent California state law.
By Terrie Best, San Diego Americans for Safe Access Court Support Coordinator
San Diego, CA –  The second day of pre-trial hearings was underway at 9:30AM on June 13th, 2013, in San Diego Superior Court's Department 48 before Judge Charles Rogers.
Taking the stand for the defense was San Diego Americans for Safe Access, Eugene Davidovich who, under defense counsel Mark Bluemel's questioning,  testified to his experience in cannabis law, growing medical cannabis and his own ordeal at the hands of San Diego District Attorney and failed Mayoral candidate Bonnie Dumanis in 2009.
Eugene's testimony was heard in order to determine if he was qualified to testify as an expert witness in Tim O'Shea's upcoming medical cannabis trial set begin this week.
In her cross-examination of Eugene, Deputy District Attorney Deborah La Touche attempted to reduce his volunteer work for San Diego ASA to only his efforts at rallies outside of courthouses.  However, the judge admonished her that the 402 hearing was not the trial and his honor refused to allow her to continue to badger Eugene, in the end he found Eugene qualified as an expert in the field of cannabis law.
Deborah La Touche's rabid behavior in medical cannabis cases is well known and she has been reprimanded by other judges, most notably in the Dexter Padilla case where Judge Laura Parsky dismissed her case and called her disingenuous.
Also heard was La Touche's motion to deny Tim O'Shea his medical marijuana defense in which she attempted to argue that since Tim may have been growing for more than himself and one other, he would be required to incorporate as a non-profit in order to have been legal.  La Touche has been heard in other cases arguing that incorporating as a non-profit is not enough to make providing cannabis to others lawful yet she argued it was this very action that was missing in Tim's case, proving that lawfulness is a moving target in the eyes of the DA's office.
Judge Rogers saw through her subterfuge and granted Tim O'Shea his medical defense under certain conditions that the defense must meet.  His honor acknowledged the recent People v Jovan Jackson appeal victory saying that in that case his colleague, Judge Howard Shore, drew the lines too tight around the admissible evidence and the appellate court found Shore had erred in not allowing the jury to see evidence of Jovan's compliance with California's medical marijuana laws.
Jury selection in this case will begin in Department 57 of the San Diego Superior Courthouse at 220 W. Broadway, San Diego, CA 92101 at 9:30AM on Tuesday June 18th, 2013.  I will have the honor of sitting with the defense and assisting  Mark Bluemel and co-counsel Lisa Wong in jury selection.
Please come to court to support Tim O'Shea as he fights for freedom in the travesty of justice that Bonnie Dumanis has perpetrated on him!
By Terrie Best, San Diego Americans for Safe Access Court Support Coordinator
San Diego, CA – Jury selection for Tim O'Shea's medical cannabis trial began with Prosecutor Deborah La Touche bullying defense counsel, Mark Bluemel about his choice of juror consultant.  It appears La Touche was so fearful of my medical cannabis activism that she did not want me to sit with the defense. I was able to help with the voir dire and preemptive process from a special seat in the aisle (along with other supporters) where we could see the prospective jurors much better.
This is the second time La Touche has challenged the defense line-up and had it backfire and ultimately come out in the defenses' favor.  Early in the prosecution she was able to scare an expert witness off the defense witness list by insisting on unprecedented and invasive discovery only to have two more very qualified expert witnesses volunteer to take their place.  Eugene Davidovich of San Diego Americans for Safe Access will testify for the defense as an expert in medical cannabis law and Dr. Michelle Sexton with Americans for Safe Access will testify to medical efficacy and cannabis treatment options.
We now have a jury seated for Tim O'Shea – a legal medical cannabis patient who was growing 17 plants for himself and a few other legal patients – that the defense is satisfied with.
Before the voir dire and preemption process began, Judge Charles Rogers gave a thoughtful, thorough and fair talk about the elements of proving guilt as well as the elements of disproving guilt using the Prop 215 and SB420 defense.
Trial is expected to last all week in Department 57 of the San Diego Superior Court at 220 W. Broadway, San Diego, CA 92101, but there will be no court on Friday. Please come to support Tim O'Shea as he fights for freedom in the travesty of justice that Bonnie Dumanis has perpetrated on him!
Day 4 (defense witness and prosecution's case)
By Terrie Best, San Diego Americans for Safe Access Court Support Coordinator
San Diego, CA – Prosecutor, Deborah La Touche was to begin her case against legal medical cannabis patient, Tim O'Shea today. Before she could, the judge in the case, Charles Rogers, allowed defense counsel Mark Bluemel to call one of his expert witnesses out of order to accommodate her travel plans.
Dr. Michelle Sexton, took the stand for the defense shortly before 10:00AM June 19th, 2013 in Department 57 of the San Diego Superior Courthouse.  Dr. Sexton's testimony was nothing less than spectacular.  She was able to explain the body's endocannabinoid system as it relates to inflammation regulation in the homeostasis process as well as how THC and CBD work to manage pain and neuropathy.  Clearly the jury was fascinated and the judge riveted.
In her cross examination of Dr. Sexton, LaTouche clearly floundered, so out of her league that she couldn't formulate an intelligent question to refute anything that Dr. Sexton said about the medical efficacy of cannabis.  La Touche focused on discrediting her by insinuating that Dr. Sexton had no clear relationship with the two patients and that verbal communication was not a valid part of a medical exam.  The judge seemed rather protective of Dr. Sexton and the jury annoyed at La Touche's attempts at dumbing down the very interesting testimony.  In the end, La Touche resorted to asking Dr. Sexton if it weren't true that cannabis causes brain damage.
It was a bad day in court for La Touche as she called her first witness, Special Agent Eric Heyton of the Drug Enforcement Administration and for four hours labored over proving that cannabis was growing in the backyard. A fact the defense has never denied.  She introduced photo after photo of the plants from different angles and at one point the jury was leaning forward squinting to see the tiny clones pictured from across the yard. Then we had to endure a video of the same evidence, all this designed to prove facts not disputed.  In another goofy move she called for Heyton to identify Tim O'Shea in the courtroom as if Tim were not willing to stipulate to being himself.
Next, La Touche brought out the medical cannabis plants all stuffed into bags and required Heyton to identify the plant matter. By the time she was done, the judge was holding his head in his hands and taking peeks at the clock.
In his cross examination of Heyton, Mark Bluemel questioned his lack of training in medical cannabis, questioned him about the San Diego County ordinance to grow medical cannabis, The Compassionate Use Act and other laws that, had Heyton been versed in, would have established Tim O'Shea's garden as a legal medical cannabis grow.  Heyton kept insisting the grow was not legal since he found evidence of sales.  This evidence was scant and circumstantial, yet in her opening arguments, La Touche claimed it would be overwhelming.
One of the key elements La Touche said she would offer to establish sales was testimony from the property owner, whom she claimed would testify that he was to have received upwards of $10,000 in compensation from Tim upon harvest of the 17 plants.
Truly the highlight of the day was watching La Touche gut her own case when she brought this star witness to the stand only to have him deny any such conversations.
A word must be said about this charming older gentleman.  He took the stand and clearly tickled the funny bone of everyone in the room.  His recollection of being hand-cuffed in his undershorts was a visual that had the jury chuckling along with all of us.  He was extremely believable and when he said he did not say any of the things the officers claimed he said about the alleged financial agreement, calling Tim the "least verbal human being he's ever met" and denying any conversation about payment, we all believed him without hesitation.
La Touche overstepped and for the second time, was humiliated in court by a judge when, his honor yelled at her, verbally confirming to the property owner witness his frustration with her.   Last year, another judge, Laura Parsky called LaTouche  disingenuous and dismissed her case against medical cannabis collective operator, Dexter Padilla.
I'm not sure how La Touche will recover from testimony that at least one of Tim's arresting officers lied in his report. If jurors can not trust the testimony of law enforcement in this case, how then can any circumstantial evidence of sales be trusted?
Please come to court and bear witness to the untrustworthy antics of the San Diego District Attorney's office.
Trial is expected to last all week in Department 57 of the San Diego Superior Court at 220 W. Broadway, San Diego, CA 92101, but there will be no court on Friday. Please come to support Tim O'Shea as he fights for freedom in the travesty of justice that Bonnie Dumanis has perpetrated on him!
Day 5 ( remainder of prosecution's case and defense witness)
By Terrie Best, San Diego Americans for Safe Access Court Support Coordinator
San Diego, CA – Likely due to the exhaustive testimony from yesterday, in which Deborah La Touche kept us captive as she took hours proving the presence of the undisputed cannabis plants in legal cannabis patient defendant Tim O'Shea's yard; both parties stipulated that the DEA evidence bags did consist of cannabis plants, including stalks, leaves and stems.
This stipulation, which happened early morning before the jury was seated, avoided another day of La Touche questioning – this time a DEA chemist – to elicit testimony that the plant matter contained THC and was therefore cannabis.
The prosecutions next witness was Special Agent Wasser, the agent who took Tim's landlord's statement.  In my update from yesterday I described how the landlord, La Touche's own witness, refuted Wasser's report and gutted La Touche's case of sales. Wasser was called in to do damage control and he testified today that he had not lied and the landlord did say there was a financial agreement.  I believe the jury is still left with doubt as to Wasser's honesty.
In his cross of Wasser, Mark Blumel, the defense attorney who took Tim O'Shea's case pro bono (without fee) questioned whether all DEA agents are called "special" agents, they are.  Mr. Bluemel also drilled Wasser on Proposition 215, The Compassionate Use Act and if it was true that no cannabis is legal under federal law. It appeared Mr. Bluemel's line of questioning was going toward why the landlord was not charged. Wasser struggled to find an out and in a weird turn of events, claimed that under federal guidelines six cannabis plants constitutes a legal grow for qualified patients.
The prosecution then called Detective Paul Paxton of the San Diego Police Department and a cross-sworn officer who is part of District Attorney and failed Mayoral candidate's Bonnie Dumans' politically conceived Narcotics Task Force.
In his testimony Paxton went through his training as a narcotics investigator with a full 20 minutes devoted to describing how cannabis is often grown on forest land and describing the dangerous chemicals sometimes found at these grows, clearly trying to confuse the jury as to the relevance of this in the O'Shea case.
Paxton, though claiming he had extensive training in cannabis, could not pronounce tetrahydrocannabinol and several times referred to indica as inca.  He also claimed that one could grind up cannabis stalks into powder and put the powder in brownies. This was a desperate attempt to paint the stalks, and stem matter as useable cannabis because La Touche's sales case is hinged on the sheer amount of plant matter being indication of sales.  Without the weight of the stalks and stems, the amount is drastically reduced and this hurts her case.
Paxton often referred to cannabis as dope in his testimony and said sales are illegal. But, in Mr. Bluemel's cross, he asked Paxton if he was aware that profits are illegal but sales between qualified patients are not. Paxton again insisted that all sales are illegal, ignoring the recent People v Jackson appeal in which case law was laid to provide for the legal sale of medical cannabis in a closed loop.
The last witness of the day was Rick Krukowski Tim O'Shea's brother-in-law and uncle to his son.  Rick is also one of the qualified patients Tim grew cannabis for.  Rick suffered a car accident eight years ago in which he lost a leg and sustained a traumatic brain injury.  He is disabled and Tim is his care giver. Rick testified to how Tim helps him with shopping, cooking and cleaning as well as driving him to his numerous doctor appointments.
Rick's testimony was heroic. He struggles with cognitive impairment and he mastered his disability in his determination to be clear, honest and help his friend in the best way he could.  It brought tears to me eyes watching Rick eloquently articulate his determination to participate in a legal medical cannabis grow to help with the anxiety and depression his disability causes as well as the physiological symptoms of pain from his accident.
It was obvious La Touche wanted to discredit Rick but she wasn't able to do much damage in discounting the care Tim provides him.  Without previous discussion with his honor and defense counsel, La Touche then resorted to insisting Rick had been arrested in the late 90's, a claim Rick denied and the judge quickly struck from the record.
Trial will resume in Department 57 of the San Diego Superior Court at 220 W. Broadway, San Diego, CA 92101, at 9:00AM on Monday, June 24, 2013.  On the defense witness list is San Diego Americans for Safe Access, Eugene Davidovich, an expert in medical cannabis law, as well as several from Tim's circle who have knowledge of the care-giver relationship he held with Rick and the legality of the grow. Tim himself will take the stand as well.
Day 6 (remainder of defense's case)
By Terrie Best, San Diego Americans for Safe Access Court Support Coordinator
San Diego, CA – The trial of legal medical cannabis patient Tim O'Shea continued today with the defense putting on the rest of their case which consisted of three witnesses all doing excellent jobs of proving that Tim O'Shea was a caregiver, grew medical cannabis for a group of four legal patients, providing evidence that refuted the prosecutions scant indication of sales and providing expert witness to California medical cannabis law.
Questioned by Defense Co-counsel Lisa Wong, the first to take the stand was Lindsi Krukowski, the mother of Tim's son and brother to Rick Krukowski, one of the disabled legal patients Tim grew medical cannabis for.
Lindsi is an amazing woman with a lot on her shoulders and I have taken to calling her Saint Lindsi. She is a strong soul and watching her testify to how her brother's disability (loss of a leg and traumatic brain injury sustained in an accident) has effected Rick's life and demeanor was heart wrenching.  Lindsi went over how difficult it is for Rick to live his life on the debilitating Oxycontin pain killers he is prescribed, how medical cannabis is a vastly less debilitating drug which doesn't effect his memory or cause him to fall asleep throughout the day as does the Oxy.
Lindsi also testified to how Tim's own injury – a gunshot wound to the leg- has effected him, how medical cannabis helps him, also without the side effects of pain killers he was prescribed.  Lindsi's testimony also included knowledge of how Tim helps Rick with shopping, cooking and transportation as his caregiver.
On the day of the raid, the investigators found a score card for a dice game and attempted to pass it off as a pay and owe sheet, but Saint Lindsi was able to clearly and intelligently give testimony that explained how the dice game was played and scored, thereby dismantled another large part of the prosecution's sales case.
La Touche's cross examination of Lindsi was fruitless and of no consequence at all. Lindsi made a great witness and would not be bullied.
Next to take the stand was Tim O'Shea himself. He was also able to identify the score card being used against him as evidence of sales and was even able to identify the handwriting on the score card as his ex-girlfriend's and not his.  Additional evidence was bought forth of other score cards in the same handwriting which Tim testified to having gotten from his ex-girlfriend over the weekend.
Throughout the trial, Tim's demeanor has been rather serious and expressionless and today we learned that Tim sustained nerve damage to his face, due to a blow, making it difficult to smile and leaving his face, at times, in somewhat of a scowl.
Tim also took us through the gunshot trauma he suffered, the loss of bone, the surgeries needed to take replacement bone from his hip, the pins and rods remaining to this day and the pain of having one leg shorter than the other.
Even though he is in constant pain, Tim can not take the pain killers prescribed by doctors as they make his life unbearable with dizziness, forgetfulness and nausea.  He uses medical cannabis instead by smoking and tincture rubs and this helps his quality of life.
Tim led us through how he researched California law before he started growing medical cannabis by attending San Diego Americans for Safe Access (SDASA) monthly meetings and learning how to follow the law from other members as well as various SDASA attorney-speakers.
Tim also testified to the sativa-dominant strains he grew which he found most helpful in treating his conditions but which also allowed him to be clear-headed and still sleep through the night without the nausea and memory loss traditional pharmaceuticals caused.
Tim was able to explain the financial make-up of the collective he had with the three other patients and the plans to reimburse his patient members with cannabis medicine at harvest time.
In La Touche's cross, she attempted to discredit the care Tim gives to Rick, getting very caught up in the fact that Tim didn't have a state issued caregiver's card, had not named his tiny four-person collective nor incorporated it as a non-profit. None of which is necessary to grow medical cannabis in a small and informal setting.  Tim attempted to say he had recommendations for all patients for whom he grew but La Touche snapped that she had not asked him that question.
La Touche also attempted to bring up Tim's preliminary exam hearing trying to discredit evidence presented today simply because it was not presented at the preliminary exam.  Judge Rogers stopped her cold and would not even let her have a sidebar (a private talk between both counsel and Judge) saying to her "LET ME BE VERY CLEAR, DO NOT ASK ABOUT DEFENSE EVIDENCE PRESENTED AT THE PRELIMINARY EXAM!"
In a last ditch effort, La Touche asked if Tim had formal training as a caregiver and the judge, obviously irritated, admonished "No formal training is needed, move on to your next question." The judge has exhibited exasperation with La Touche throughout the trial in much the same way Judge Laura Parsky did last year in the Dexter Padilla case where La Touche's case was dismissed and she was called disingenuous by her honor.
The defense's next witness was Eugene Davidovich, San Diego Americans for Safe Access Chapter Coordinator.  He was asked by Defense Counsel Mark Bluemel and agreed to be an unpaid expert witness in the O'Shea case.
Eugene, who holds both a BS and MBA and is a Navy veteran, suffered his own trauma at the hands of San Diego District Attorney and failed Mayoral candidate, Bonnie Dumanis five years ago where he was eventually acquitted by a jury of 12. Since then, as he testified today, he has studied California medical cannabis law via sitting in on numerous cases and legal seminars, writing curriculum for a continuing legal education course as regards defending medical cannabis cases and consulting with countless legal experts. Eugene also sits on Mayor Filner's informal work group to advise the Mayor on crafting a medical cannabis ordinance.
Mark Bluemel, who took the O'Shea case pro bono, held up the DEA marked exhibit bags of stalks, stems and leaves which the prosecution was trying to pass off as useable cannabis and asked Eugene to describe its contents and value.  Eugene testified that most likely it might be used to make paper or perhaps be used as kindling since it had no medicinal value.  This was an important piece of testimony as the prosecution maintains the sheer amount of cannabis (17 plants) found growing is indication of sales.  Removing the stalks, stems and leaves, reduces the amount weighed by the investigators as useable and gives a more honest representation of the actual amount of viable medicine found.
To show why a patient might need to grow several plants per patient, Eugene also took us through the various vulnerabilities to a cannabis garden which he said, aside from misguided law enforcement, included mold and spider mites and, in an outdoor setting, inclement weather and garden rodents.
Mark Bluemel's questions to Eugene about the legalities of growing, processing and distributing medical cannabis were peppered with La Touche's objections that Eugene was not qualified to provide legal opinion but the Judge overruled most saying that Eugene had qualified as an expert and would be allowed to give his opinion as to the law.
In her cross of Eugene, La Touche tried very hard to discredit him, insisting he had no prior knowledge of Tim's grow even though he sat in on Tim's testimony earlier in the day. Finally, amused by Eugene's assertions that he sat in so therefore could testify to the grow, the judge, hiding a grin, said "Ms. La Touche, Mr. Davidovich has told you he wasn't at the grow but learned what he knows about the grow here in court today.  He isn't going to be able to tell you what kind of shirt Mr. O'Shea was wearing the day of the raid so stop asking questions designed to argue your case in front of the jury."
Even though the judge had warned La Touche, she continued to badger Eugene who would not be rattled by her and who elicited respect from the judge, jury and spectators in the court and perhaps even one DA staffer who left grinning and shaking his head.
Following the afternoon break, the defense rested and the jury was sent home to return when trial will resume in Department 57 of the San Diego Superior Court at 220 W. Broadway, San Diego, CA 92101, at 9:15AM on Tuesday, June 25, 2013.
La Touche will call Investigator Mike Massey to the stand and both counsel will present closing arguments. The jury is expected to begin deliberation by early afternoon.
Day 7 (closing arguments and Jury Instructions)
By Terrie Best, San Diego Americans for Safe Access Court Support Coordinator
San Diego, CA – The evidence presentation portion of the trial of Tim O'Shea ended almost two days ago, at 9:50 AM on Tuesday, June 25th and yesterday, Wednesday  we spent the day in the hall, on pins and needles waiting for a verdict that has yet to come.
It gave me a day to reflect on Tuesday's process of ironing out Jury Instructions and the closing arguments from both sides before I write this – my final update – aside from the verdict announcement which is going to be very emotional and probably will not include comments.  I am writing this in the hour before I have to go back to court and do more waiting.  It's probably a mess and I hope you will forgive me!
Judge Roger's took some time explaining to the jury that most times there are law books from which to copy Jury Instructions with regard to the definition of crimes; what constitutes a defense and how to evaluate each.  He went on to explain to them that medical marijuana laws are emerging and there are no instructions so language must be pulled from the California Criminal Code and the Health and Safety Code.
Outside the presence of the jury, Judge Rogers and counsel did just that.  But, first, once again his Honor found himself fighting frustration at Deputy District Attorney Deborah La Touche at her borderline unethical attempt to omit certain portion of the instructions she was responsible for.  The Judge said it appeared that she was attempting to force the court to advocate for the prosecution by forcing the court to provide a portion of the instructions dealing with incriminating testimony and without this portion the case would be subject to automatic appeal.
Judger Rogers also informed La Touche that the definition of marijuana specifically does not include stalks and since the prosecution's weight of the cannabis, tipped the scale at 7,800 grams including stalks, it was inaccurate and her weight was cute down to a mere 200 grams as an estimated correction in his eyes.  I'll admit, watching La Touche flounder around trying to defend her ethics in this regard was gratifying to watch but in light of the absence of a verdict today, it is not as comforting as it was at the time.
Defense Counsel, Mark Bluemel, provided much of the instruction surrounding the Compassionate Use Act (CUA) and Medical Marijuana Program Act Defense which he obtained from Michael McCabe, the attorney who won in the Eugene Davidovich and Dexter Padilla cases. Clearly the highlight of this was that the Judge added language to the Davidovich/Padilla instructions that define profit as what it is, an excess of money over and above expense which, to be lawful, must go back into the collective.
His Honor also included language to the Jury Instructions that explains a cultivator is entitled to compensation for his time in the form of a salary. In my mind this is a huge victory in the Jury Instruction struggle and sets a courthouse precedent to unravel District Attorney and failed Mayoral candidate, Bonnie Duman's bias notion that all sales equal profit.  It raises the bar to require investigations to prove actual excess money earned above expense is not being returned to the collective but rather going out as dividends to entrepreneurs in an unlawful manner.
The Jury Instructions also included the lesser offense of simple possession which the jury can but is not required to find Tim O'Shea guilty of if they can not agree on a verdict on possession for sale. The simple possession charge is still subject to CUA and MMPA defense elements, however.
Next came closing arguments and I have to admit, I could write a book on the idiocy of La Touche's closing statements but I just don't have time to capture it all on paper.
First and foremost, La Touche, tried to insist that since because Tim did not have a doctor's recommendation in his hand and available to the law enforcement raiders of his grow, that he is guilty.  However she did this right after the judge had just explained to the jury that definition of possession doesn't require one to be holding the illegal substance in his hand but a mere control of the substance is enough to prove guilt. I couldn't tell if La Touche was aware of how silly her ascertains were as they butted up against the judge's definition but it didn't go unnoticed by all of us, we talked about it at length in the hall yesterday.
Of course La Touche also bored us to tears going over facts not disputed, such as that Tim had marijuana, he was growing marijuana and the substance was stipulated to be marijuana.  She still was insisting that sales were synonymous with profit and she also referred to the amount of marijuana as 7,800 grams when she knew the jury was being instructed to disregard her weights as incorrect due to the addition of the stalks.
La Touche used a fancy PowerPoint slide presentation to conduct her closing arguments and dedicated a whole slide to discredit the defense's Expert Witness, Eugene Davidovich of San Diego Americans for Safe Access, by saying he had an interest in the outcome of Tim's case while still insisting the DEA didn't have any interest in the outcome.  We talked about that in the hall yesterday too all of us outraged by this claim.
La Touche wrapped it up by asserting that Tim was making huge profits, living in his little tent outside his grow and maintaining that the CUA is NOT a shield for people like him.  It made me want to spend my life explaining that the CUA is absolutely made for folks like Tim.  He is what it was designed for, to protect people who use medical cannabis for pain from the rabid likes of the DEA.  Clearly that's what the voters wanted 17 years ago when they passed it.
I am off to court today, to sit in the hall and wait with Tim O'Shea and all the rest of the supporters which include Adela Falk and Dennis Boisvert of the San Diego Human Solution who picked Tim up daily for court even though it was out of their way.  Adela also provided many wonderful lunches to us through the week from her vegetable garden and her little cooler. Also there were Dennis and Deborah Little, who are suffering their own persecution at the hands of Dumanis, Justin Turley, a big, kind-hearted gentleman, and all the Long Beach Human Solution folks, the Grumbines, their daughters, the lovely Kathie Zamanjahromi and the sweet couple, Brice and Shannon.   You rock and it was wonderful to be with you all.
I look forward to a verdict of not guilty, please let Tim O'Shea be in your thoughts today!
Once again, sorry for the typos, sytanx errors and if I missed thanking anybody.
By Terrie Best, San Diego Americans for Safe Access Court Support Coordinator
San Diego, CA – Yesterday, Thursday, June 27, 2013, legal cannabis patient and defendant Tim O'Shea's jury came out of deliberations hopelessly deadlocked and Judge Charles Rogers declared a mistrial.
The jurors deliberated for approximately 16 hours over the course of the last few days and the waiting game was one of the most brutal I have ever endured.  I want to thank all of the supporters and you, readers who tolerated my daily updates, especially the folks who contacted me with their appreciation.  Thanks for the interest!
After poling the jurors to confirm the deadlock, Judge Rogers asked for information on the split.  It was nine not guilty and three guilty.  The judge had some very poignant words about their service in this difficult case of emerging law and the jury answered back with their own thanks for the obvious respect he showed to them during the trial.
Judge Rogers spoke at length about the importance of the nine not guilty juror votes, recalling that in his lifetime bi-racial marriage was illegal but change emerged and jurors began to use their verdicts to fight the tyranny of government until the racially motivated law was nullified.  Throughout the trial I thought many times what a wonderful man Judge Rogers is and I loved hearing him say that juries reflect the beliefs of citizens and he believes the not guilty votes will send a message to the DA's office about what the people really want.
After the Judge spoke and declared the mistrial, Defense Counsel Mark Bluemel made an oral motion called a PC1385 requesting that the judge dismiss the case in the interest of justice.  His Honor declined to hear the motion until 9:00AM Monday, July 1st to give the prosecution time to decide if they would dismiss on their own. It is my opinion and that of several supporters that if the DA's office indicates they will retry the case, the judge will grant Mr. Bluemel's motion.
Should that happen, it will be the second time a judge has stepped in and dismissed a medical cannabis case in which La Touche was the prosecutor.  Last year, in the Dexter Padilla case, Judge Laura Parsky, in a very rare move dismissed two cannabis related counts against Dexter in the interest of justice. Her Honor asserted La Touche was bordering on 'disingenuous' in the way she presented her arguments in this case, a humiliating moment for the Deputy DA that clearly she has not learned from.  One hopes she will avoid a second shameful lesson from this judge and decline to re-file against Tim O'Shea.
A word about the abhorrent tactics of Deborah La Touche: I was invited by Mark Bluemel to sit at the defense counsel table during voir dire to help with jury selection but La Touche fought hard to have me barred from the table; lying to the judge that I am a convicted felon.  I am NOT a convicted felon, I have no felony record.  Now that the trial is over, I called La Touche, told her I knew of her lie and asked her to never do that again.  I intend to write a letter to the Judge too.  No disrespect to felons but it irks me that I sat in court with this lie to the judge hanging over me.
After the jurors filed out of Department 57 of the San Diego Superior Courthouse, I asked them if they would like to speak about the case.  Most declined but one kind thoughtful woman sat down with me as well as two alternates who had not been in the deliberating room but who had strong opinions they wanted to share.
What I leaned was of the nine, most walked into deliberations already of the opinion that Tim was not guilty.  The 16 hours were spent trying to get to a full acquittal.  While the juror I spoke with would not name the three hold outs, she said the sticking point for the three was the amount of cannabis on-hand.  She felt more education about dosages and medical need would have helped change the three guilty votes to not guilty.
Other key points were that none of the 12 believed the dice game score card La Touche tried to pass off as indication of profit were pay and owe sheets, none believed Detective Paxton's testimony that the cannabis on-hand had a street value of 175 thousand, but they did not think the film canisters Tim had in his tent helped his case either.
In speaking with the two available alternates, they said they would have voted not guilty had they been called in. Which means, of an impartial panel of 15 people, Mark Bluemel was able to convince 11 citizens of Tim's innocence.
All who watched can agree that Mr. Bluemel's defense of Tim was stellar and Judge Roger's congratulated him on his work.  I am very grateful that both he and co-counsel, Lisa Wong fought so hard for Tim and I hope they are basking in their victories right now.
This was an emotional trial for me. I've know Tim and his brother, Ted since I was a teenager and he did not deserve to face this ordeal. I'm drained but happy! If anybody cares, I plan to watch Disney movies with my loved ones all weekend and gear up for Dennis and Deborah Little's PC1538 motion to suppress evidence which will be held in the downtown courthouse in Department 39 at 11:00AM on July 12th, 2013!
Tim O'Shea Medical Marijuana Case Update – Motion to Dismiss Granted!!
By Terrie Best, San Diego Americans for Safe Access Court Support Coordinator
San Diego, CA – On Thursday, June 27, 2013, legal cannabis patient and defendant Tim O'Shea's jury came out of deliberations hopelessly deadlocked in a three guilty; nine not guilty split and Judge Charles Rogers declared a mistrial.
Defense Counsel, Mark Bluemel, immediately gave an oral motion to dismiss the case in the interest of justice, which the judge delayed hearing arguments on until today, July 1, 2013.  His reasoning was to allow the District Attorney's office time to decide if they would re-file against Tim, which is their right in cases of deadlocked juries.
Deborah La Touche, the prosecutor in this case told the judge today that after speaking with two department heads, they would re-file the case against Tim due to the "strong indicia of sales" in the case.
The judge encouraged Mark Bluemel to submit to the court, indicating he did not need to hear Mr. Bluemel argue his motion. One could speculate that Judge Roger's had made up his mind.  However, it was a very tense time as we listened to his honor.  Here is what he had to say:  He felt another trial, of course, would be burdensome to Tim O'Shea and explored the possible purposes a new trail might serve.  One purpose would be for a resulting punishment in the case which did not seem appropriate to the judge. The preservation of public safety was another possible outcome and his honor did not find that applicable either. Further, Judge Rogers could not find any valuable purpose for re-trying Tim and felt Tim had not broken the spirit of the Compassionate Use Act or the Medical Marijuana Program Act.
Further, the judge reminded La Touche that her case was NOT one of 7,800 grams of medical cannabis but was, without the stalks, a mere couple hundred grams.
Judge Roger's pointed to the fact that three quarters of the jury had voted not guilty, and he himself did not think it was a strong case for sales therefore he doubted a unanimous guilty verdict would ever be reached against Tim. Judge Roger's granted Mark Bluemel's motion to dismiss in the interest of justice the people's case against Tim O'Shea, thereby ending District Attorney and failed Mayoral candidate, Bonnie Dumanis' torture of this kind-hearted citizen.
I had the privilege of speaking a full hour with another juror (I had already spoken with one directly after Thursday's deadlock and reported on that previously in my 8th day update) who called me over the weekend.  She told me the entire jury felt very sad for Tim.  They did not understand why the police would exaggerate evidence and many felt angry the case was prosecuted since there was no egregious behavior, no selling to kids or blatant misuse of the CUA or MMPA.
None of the jurors had a problem with marijuana and felt it would be legalized soon and all of this would be a moot point. They were angry that eight days of their time and public employee time had been wasted prosecuting this case.
The jury's opinion and then Judge Roger's decision to stop further prosecution of Tim reflect what the People want much better than the very office sworn to represent those People; proving the courts indeed provide the checks and balances in answer to the injustice and tyranny of our elected District Attorney.
It is uncommon for judges to dismiss and thwart the DA's office as Judge Roger's did.  Some do not even do this in hung jurors of a split even more in the favor of not guilty then this one; a big thank you to this fair and forward-thinking judge.
It is a great day for patients today!