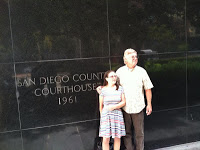 By Terrie Best – San Diego Americans for Safe Access Court Support Coordinator
July 23, 2013
San Diego, CA – Last week, in San Diego Superior Court, Attorneys Lance Rogers and Logan Fairfax argued their clients, – medical cannabis patients and seriously ill Dennis and Deborah Littles' – right to privacy was violated when Sheriffs flew over their property, spotted a small cannabis grow, lied to a judge about the size of it and filed for a search warrant. Which, last year the Narcotics Task Force used to raid the Littles' home and which resulted in charges of felony cultivation and felony possession of marijuana with intent to sell.
Mr. Rogers asserted to David M. Rubin, the judge who signed the warrant and who also heard the arguments to quash and traverse it, that in his air surveillance Deputy Matt Stevens misrepresented the size of the grow, failed to investigate whether the Littles were legal patients, they are, and did not utilize his own departments resources to ascertain if the Littles had a growers' permit through the San Diego County Sherriff's medical marijuana regulation program where Stevens reports.
In Lance Roger's questioning of Matt Stevens he asked the deputy – who admitted to a 40 hour class in spotting cannabis grows – whether he could tell the difference between a legal and illegal cannabis grow from the air.  In a disturbing but telling admission, Stevens insisted that all cannabis grows are illegal in California and the only truly legal grow is the federal government's crop in the state of Mississippi where cannabis is grown and distributed to patients under the federal IND program.
The two counsel for the defense made very good argument that there are a plethora of tools for clearing patients as lawful and that Stevens could have used any number of them but instead he omitted material facts in his affidavit and deliberately misled Judge Rubin to obtain his warrant to raid and search the Littles' property.
In his argument, prosecutor George Lloyd stated on record that it is not the job of law enforcement or the DA's office to determine if the law has been broken.  Lloyd claimed that all medical cannabis cases must go before a jury and that is where guilt or innocence should be decided; thereby making it clear that San Diego District Attorney and failed Mayoral candidate, Bonnie Dumanis is intent on clogging the court with medical cannabis cases in her desperation to convict ill patients.
On July 19, 2013 The judge denied the motion to traverse the warrant he signed but said in a rare move that  his narrow interpretation of what constitutes the legality of the warrant must not reflect his views on the merits of the prosecution's case against the Littles.   The judge went on to pointedly ask the prosecution if he seriously would try this case.
In his statements to the two parties Judge Rubin said he would like to contribute to an atmosphere of settlement. This effort failed since the prosecution is not willing to be reasonable about certain conditions to the plea, mainly the fourth amendment waiver.   In a fourth amendment waiver defendants have no right to privacy and law enforcement may enter the home of the defendants at any time without cause or warrant.  The Littles, understandably are not willing to give up their civil rights when they are legal medical cannabis patients.
Dennis and Deborah Little are headed to trial in Vista on August 13, 2013.  This case is especially traumatic because the Littles, in their 60's, are very ill.  Dennis suffers from arthritis and Deborah is a cancer patient living with HIV/AIDS.
Cases like these put patients' lives and wellbeing at risk.  Because Deborah Little has not been able to use the medical cannabis which helps her so much, she has lost nearly 30 pounds and suffers from intense pain.
If law enforcement can not be counted on to follow state medical cannabis law and they routinely lie to obtain warrants, voters rights have been circumvented and patients can not truly grow and use medical cannabis as citizens intended when they passed Proposition  215 in 1996.
More articles on this case:
http://www.safeaccesssd.org/2013/03/judge-says-from-bench-he-believes_5206.html
http://www.safeaccesssd.org/2013/03/medical-marijuana-advocates-rally.html
http://www.safeaccesssd.org/2013/03/terminally-ill-senior-citizen-medical.html