Thanks to the tenacity of Attorney Hud Collins, the San Diego City Council has placed the issue of medical marijuana on the docket for tomorrow's council meeting!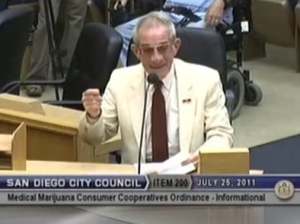 To the council, Attorney Collins wrote; "with the announcing of the Department of Justice's new guidelines announcing a hands' Off of recreational States' and Medical Marijuana State approved ; and high suggestion that there be local government plans immediately announced-it is time to put on the docket for a full discussion and a plan (including a local sales tax, to be put before the voters)."
A special thank you to Adela Falk of The Human Solution for keeping a watchful eye on the council agenda – and letting SDASA know about the issue making onto the docket in time to attend the meeting.
WHEN: Tuesday, October 1st at 10:00 AM 
WHERE: City Administration Building, 12th Floor 202 "C" St. San Diego.