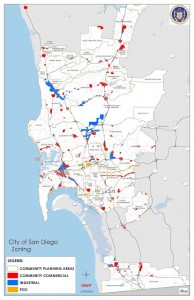 Recently San Diego Americans for Safe Access received communications from dismayed patients wondering why the Medical Marijuana Consumer Cooperative Ordinance just passed by San Diego City Council in March was so restrictive that there would be no safe access to medical cannabis in their neighborhoods. Many declared it a ban and hearts were broken. In the disappointment emerged an urgent need to organize efforts to expand the land use portion of the city ordinance as soon as possible.
With growing support, we are launching a campaign on the community level to engage our community organizers and leaders in conversations about Medical Marijuana Consumer Cooperatives and neighborhoods.
Last Tuesday, May 6th the Uptown Planners Group (UPG) held their monthly meeting which was attended by patients and advocates. The UPG is a Community Planners Group (CPG) recognized by the City of San Diego as a formal mechanism for community input in land use and decision-making processes. The group elects a chair, currently held by Leo Wilson, and over a dozen board members. The UPG is also attended by the following city staffers: Marlon Pangilinan from the Planning Department, Oscar Galvez III from the Facilities Finance Department and Howard Greenstein from Park Services.
The city of San Diego recognizes 29 CPG's which according to the city website:
Provide citizens with an opportunity for involvement in advising the City Council, the Planning Commission, and other decision-makers on development projects, general or community plan amendments, re-zonings and public facilities. The recommendations of the planning groups are integral components of the planning process, and are highly regarded by the City Council and by staff.
Many of these 29 CPG's will play a part in the Conditional Use Permit process that Medical Marijuana Consumer Cooperative (MMCC) hopefuls will be using to gain a permit to provide medical cannabis to patients in a brick and mortar facility.
The Uptown Planners Group's website states this on its homepage:
The Uptown Planners Board is an advisory board to the City of San Diego regarding land use and development projects in the neighborhoods of Bankers Hill, Hillcrest, Mission Hills and University Heights.
While none of these neighborhoods, in district three, where the Uptown Planners Group resides, have zones which the city has designated as okay for a MMCC's, Todd Gloria, the city council member who represents that district has been amenable to discussions about opening zones.
I attended the UPG meeting Tuesday along with my mother, Judith Best, and my friend Justin Turley, a seriously ill liver patient. Both are residents served by the Uptown Planning Group and are legal medical cannabis patients in dire need of safe and local access to medical cannabis in their neighborhoods.
When we entered the Joyce Beers Center where the UPG meets every 1st Tuesday, I was surprised at how well attended the meeting was.  There was a panel of board members at the front and a galley of around 40 people. The Chair, Leo Wilson, began the meeting by asking us to sign in if we have intention to run for the board.  A citizen of uptown and the surrounding areas it serves is eligible to run for a position on the UPG board it they attend 3 meeting in a given year.
Public comment, which is recorded as such, per the Brown Act, was taken before the group proceeded with their monthly agenda. My mom, Justin and I were there to make non-agenda public comment. I introduced myself as a volunteer for San Diego ASA and thanked the board for holding a place in local government for citizens to use their voice to create change. I told the board of my friend Justin, a young man with severe health considerations and one who is far too ill to be taking the bus to far-flung industrial areas to get medical cannabis.  I asked them if we could open a dialog about medical cannabis in commercial neighborhoods of district three.
My mom, Judith, addressed the UPG board saying she has been a medical cannabis patient for 2 years. She uses cannabis for insomnia and arthritis.  She described her positive experiences with medical marijuana consumer cooperatives and her dismay at the restrictive zoning that would preclude her from having local access.
My mom has been in contact with her Councilmember, Todd Gloria's staffers.  They mentioned a few historical buildings in the district and the possibility of using one of those sites for an MMCC.  She wanted to learn more and that's why she attended the Uptown Planners Group.
The board pointed us to Adriana Martinez, one of Todd Gloria's staff members who was in attendance.  A call was placed yesterday and we are awaiting a return call.
Community Planners Groups are a great forum to discuss medical cannabis.  To find the one that serves you, go here.  I will be attending the planners group that serves my own neighborhood soon.  Please respond to this email if you would like support attending your CPG.  We have volunteers who can go with you, help you prepare to speak or speak on your behalf if you are housebound.  Email us today if you are interested in expanding safe access into your area.
By Terrie Best