by Marcus Boyd*  – Vice Chair SD ASA
*a Service Related Disabled Veteran
In response to a call for action by Cal NORML Deputy Director Ellen Komp, we ask that you sign and share this Change.org online petition titled; Restore the High Quality Healthcare Veterans have Earned. Be sure to see "How to Help" at the bottom of the petition.
 – – –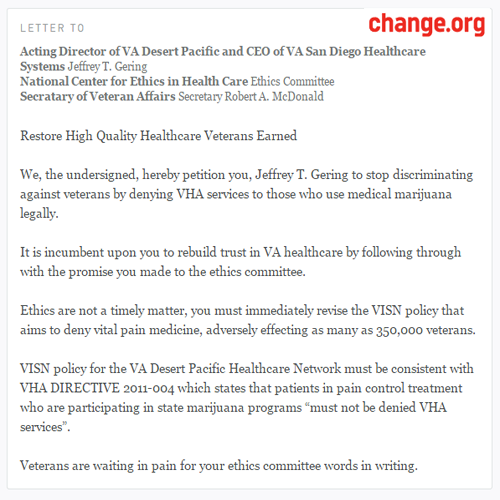 – – –
In direct conflict with Department of Veterans Affairs directive, VHA DIRECTIVE 2011-004 titled; "Access to Clinical Programs for Veterans Participating in State-Approved Marijuana Programs", Jeffrey T. Gering, Acting Director of VA Desert Pacific Healthcare Network and Chief Executive Officer of the VA San Diego Healthcare System is unilaterally denying pain medication to veterans who use state-approved medical marijuana.
Director Gering is responsible for 5 hospitals and 29 community clinics serving 1.4 million veterans in Southern California and Southern Nevada.
After receiving an ethics complaint in November of 2014, the National Center for Ethics in Health Care contacted Director Gering and strongly emphasized the need for consistency with VA local and national guidance.
Director Gering agreed to revise the policy in light of the complaint and VHA guidelines for treating patients using marijuana.
 – STOP TREATING VETERANS LIKE YO-YO's:
Today, Director Gering defiantly maintains a rogue policy of denying pain medication to nearly 350,000 veterans.
After an Air Force airplane mechanic informed her patient advocate that the VA ethics committee contacted Director Gering her prescriptions were restored. Then, on 01/11/15 she was told the rogue policy was still in effect and she will again be denied pain medication.
Additionally, on Christmas Eve 2014 a paratrooper injured in service was also told he would still be denied his pain medication.
 – RESTORE HIGH QUALITY HEALTHCARE VETERANS EARNED
Studies estimate that 50% of veterans experience chronic pain, and nearly half of these patients receive prescription opioids. VHA DIRECTIVE 2011-004 states that patients in pain control treatment who are participating in state marijuana programs "must not be denied VHA services", adding that "decisions to modify treatment plans in those situations need to be made by individual providers in partnership with their patients."
 – BACKGROUND:
An investigation announce by California NORML found that on September 23, 2014 Director Gering issued a VISN policy stating: "For safety reasons in patients receiving chronic opioid therapy for non-malignant pain, if UDS detects marijuana, opioid therapy will be tapered off and discontinued if patient continues to use any form of marijuana and opioids concurrently."
Safety has been identified as a concern, with some doctors and administrators wrongly assuming that the use of marijuana along with opiates is unsafe. In fact the opposite is true. A recent study shows that the number of opiate overdoses is down in states with medical marijuana programs, and suicides in those states are also down. Veterans are committing suicide at the rate of 22 every day!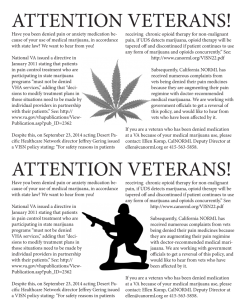 – HOW TO HELP
Sign & share this petition.
If you are a veteran who has been denied medication at a VA because of your medical marijuana use, please contact: Ellen Komp, CalNORML Deputy Director at ellen@canorml.org or 415-563-5858
Print & Educate Veterans with this Flyer
(Two versions available)
 – REFERENCES:
National Center for Ethics in Health Care
Department of Veterans Affairs VHA DIRECTIVE 2011-004 Veterans Health Administration – January 31, 2011
VA Desert Pacific Healthcare Network (VISN 22) – Network Policy No.: 2014-01 – September 23, 2014
Veterans For Medical Cannabis Access: Progress in Southern California VA — VISN 22
Two Veterans Tell Their Story: VA Hospitals in Southern California Deny Medical Marijuana Patients Their Prescription Meds
US Veterans Denied Pain Medications Over Medical Marijuana Use: Cal NORML, Veterans for Medical Cannabis Access Call for Action
Study: Legal and Clinical Evolution of Veterans Health Administration Policy on Medical Marijuana
Study: In States With Medical Marijuana, Painkiller Deaths Drop by 25%
Study: Medical Marijuana Cuts Suicide Rates By 10% In Years Following Legalization
– – –