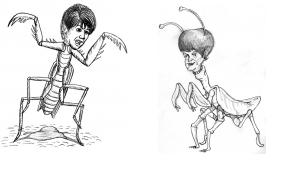 By: Eugene Davidovich, NUG Magazine
The fierce fight against medical marijuana in San Diego commonly referred to as Operation Green Rx that District Attorney (DA) Bonnie Dumanis has been waging for years, has resulted in thousands of San Diego Citizens outraged at the fraud, waste, and abuse of power within her office.
One such outraged citizen is Marcus Boyd of Imperial Beach whose involvement in San Diego Medical Marijuana policy began with his efforts to open a collective in Imperial Beach. Mr Boyd, himself a medical marijuana patient approached the Imperial Beach City Council with his request to open a collective last year. The request was answered with an unequivocal denial and an immediate push back which included the council quickly voting in a moratorium and promising to work on the issue.
Almost a year later, Imperial Beach still has no medical marijuana regulations, and all of Mr. Boyd's further attempts to start a dialogue with the council have landed on deaf ears.
After the 9/9/9 raids on Medical Marijuana Collectives in San Diego, Mr. Boyd launched "The S.E.P.T.I.C. System / Bonnie DA Mantis" website (http://bonniedamantis.wordpress.com/) which has attracted attention from both the media and the community at large.
In a recent article published by the San Diego City Beat, Dave Mass wrote "Patient and aspiring collective operator Marcus Boyd specifically targets Dumanis, accusing her of using televised shock and awe enforcement tactics to effectively harass and terrorize the seriously ill and dying patients".
The S.E.P.T.I.C. System stands for San Diego Electronic Prohibition Tracking & Information Collection System which as Mr. Boyd put it is "a central place where we can both track the prohibition / denial of safe access as well as information regarding court cases related to the prohibition of safe access in San Diego".
In a telephone interview, with NUG Magazine, Mr. Boyd explained the reason he started the blog was "because there is a real need to have a central location to look up the fierce fight that we are experiencing in San Diego".
He went on to explain that the website's purpose is twofold; first, to track the prohibition specifically related to all the San Diego County municipalities and San Diego City itself with regards to progress and legislative development of medical marijuana law. Second, the site focuses on information collection of the court cases and the information pertaining to the denial of safe access for patients in San Diego.
"If it weren't for Bonnie Dumanis we would not have denial of safe access, which goes to the second name of the site; 'DA Mantis' – Without the DA Mantis we wouldn't be in this mess", Mr. Boyd Explained.
More recently, Mr. Boyd's efforts with the site have been focused on the 2010 election of San Diego County District Attorney. He launched the first public effort in San Diego to find a replacement for Bonnie Dumanis and has already collected over $18,000 in pledges of campaign contributions for the next San Diego County DA. Mr. Boyd has interviewed at least a half a dozen candidates and has approached dozens of attorneys encouraging them to run.
"She is but a county District Attorney, and the fact that this DA is doing what no other county DA is doing, stands to reason that without her we wouldn't have this problem".