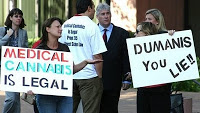 CHRONIC-CON? – San Diego CityBeat, August 11, 2010
Most people charged with federal drug crimes cop a plea. James Stacy organizes a convention. The feds busted the martial-arts instructor after he organized a medical-marijuana collective next to his dojo in Vista. His trial starts at the end of the month; in the meantime, Stacy is coordinating the Rx Cannabis Raid Relief Concert and Expo. The Saturday, Aug. 14, event will feature more than 50 exhibitors from collectives, law firms, activist groups, doctor's offices and hydroponics stores, plus a Jamaican restaurant. There will be speakers, bands (including Roswell that Ends Well and Shame and Skandal) and a Guinness-record contender for the world's smallest cat. The free expo runs from 4:30 to 9:30 p.m. at the Balboa Park Club, in Balboa Park. www.rxcannabisraidrelief.blogspot.com
RX CANNABIS RAID RELIEF PRESS RELEASE
SAN DIEGO – Mark your calendars and get ready to have a great time, get involved and make a real difference against this fierce fight on patients in San Diego!
This is a historic event in San Diego that will help raise funds for James Stacy and his Federal Medical Marijuana fight, as well as other defendants fighting against continued harassment, prosecution, and intimidation of legitimate medical marijuana patients attempting to follow the law.
The RX Cannabis Raid Relief Concert and Expo will feature an exciting evening of over 50 exhibitors, three bands, and a number of speakers at the world famous Balboa Bark Club Ball Room located in the Palisades area of Balboa Park. Admission is free!
Meet with national advocacy groups, medical collectives, doctors, lawyers, insurance specialists and alternative health care professionals from all over San Diego County and around the state. Listen to great speakers from the Drug Policy Alliance, Law Enforcement Against Prohibition, Americans for Safe Access, and learn the latest in medical cannabis law, regulations, as well as our strategy for Safe Access in San Diego.
For years now the DEA, Narcotics Task Force and the San Diego District Attorney's office have been terrorizing patients in San Diego through vindictive, bias driven prosecutions, raids, and outright harassment. You can help the victims of this reefer madness propaganda campaign, and San Diego District Attorney Bonnie Dumanis' fierce fight against patients stand up for their rights.
By supporting this event, and helping raise money for the victims, you are helping put a stop to the cycle of plea bargains and we can begin to hold the responsible parties in our government accountable for their actions of waste, fraud, and abuse.
James Stacy and Laura R. are two of the many individuals that are currently being prosecuted and persecuted for providing safe access within the State law.
All proceeds from this Concert & Expo directly benefits their ability to continue the fight without accepting a plea.
Come support our heroes and learn more about the medical marijuana movement!
Sponsors include: Americans for Safe Access (ASA), Drug Policy Alliance (DPA), Students for Sensible Drug Policy (SSDP), KUSH Magazine, NUG Magazine, CA NORML, and many more!!
WHAT: Rx Cannabis Raid Relief Concert and Expo
WHEN: August 14, 2010 – 4:30pm-9:30pm
WHERE: Balboa Park Club (Palisades Area of Balboa Park)
Directions and Parking – Take Hwy 163 south to Park Blvd, go left at the stop light then left onto President's Way, which is the next stop light. Continue to the stop sign where you can go straight to park in the Pan American Plaza parking lot or make a right and park in the Organ Pavilion lot. The Balboa Park Club is located in the South Palisades area of Balboa Park, just north of the Puppet Theater. More parking is available in the adjacent lots that are located behind the Hall of Champions and the Starlight Bowl or you can take the Balboa Park Tram.