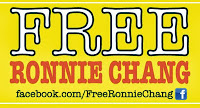 By Terrie Best – San Diego Americans for Safe Access Court Support Coordinator
San Diego CA – Medical cannabis patient and collective operator, Ronnie Chang's ordeal with the federal government will come to an end on Tuesday, October 15, 2013, after spending over a year behind bars in federal custody awaiting a trial that was to have started next month.
Ronnie, connected to Club One Collective/Extreme Holistic Care, formerly San Diego Dispensary Services with his attorney Michael J. McCabe, has been in and out of court in both the California system and – when charges were dropped and picked up by the U.S. Justice Department – in federal court for a series of hearings which began in 2009 when Club One was raided. The SWAT style raid was conducted by San Diego District Attorney, Bonnie Dumanis' cross deputized Narcotics Task Force in her fight against the public safety that safe access to medical cannabis contributes to San Diego County.
Ronnie's co-defendants have long since either reached plea deals or, in the case of Hal Pilotte, had charges dropped against them. However, Ronnie was charged – in a vindictive attempt by law enforcement to stymie a civil suit against the City of Oceanside, on behalf of Club One – with over 60 felony counts ranging from money laundering to cultivation by the U.S. Attorney led by prosecutor Paul Starita.
Extreme pressure to plea was put on Ronnie using the fragile condition of his elderly mother, Carmen Chang whom he provided care for prior to his incarceration.  Mrs. Chang has relied on the kindness of the medical cannabis community to help with groceries and other financial assistance via the Free Ronnie Chang campaign organized and managed by Heidi Whitman of San Diego Americans for Safe Access (SDASA).
Also helping Ronnie with moral support was San Diego Human Solution.  Adela Falk, the Prison Outreach Coordinator for SDHS was responsible for mailing dozens of letters and cards from the community wishing Ronnie well and comforting him during his crisis.
The Chang case garnered national attention among progressives when former San Diego Mayor Bob Filner brought the topic of jury nullification – a practice of nullifying unjust laws by way of not guilty verdicts – to the forefront of Ronnie's case. The former Mayor held a press conference after a gag order hearing which was filed by prosecutors against Ronnie's attorney, and in response to this video by SDASA's Eugene Davidovich.  Video of Bob Filner's press conference, filmed by Marcus Boyd, also of SDASA, can be viewed here.
 Americans for Safe Access, the largest national member-based organization of patients, medical professionals, scientists and concerned citizens promoting safe and legal access to cannabis for therapeutic use and research, recently had this to say about federal medical cannabis cases:
"The vast majority of federal medical marijuana cases are never tried. Because those indicted have no ability to use a medical necessity or state law defense in federal court, most defendants are forced to take plea bargains rather than face the consequences of an unfair trial. Numerous medical marijuana defendants over the past couple of years have received mandatory minimum sentences of 5-10 years in prison."
Please plan to attend this important hearing before Judge Michael M. Anello.  Ronnie will be released from custody with "time served" sometime following the hearing and will be free to recover from the trauma the U.S. Government has perpetrated upon him and his mother.
Many people and organizations came together in support because of the extreme hardship faced by mother and son. A special thanks to the Larsen-Robinsons, who visited, and those who donated money to Carmen Chang and all who wrote letters to Ronnie.
For more information, please contact San Diego Americans for Safe Access Court Support Coordinator, Terrie Best at ilegalsmile@hotmail.com