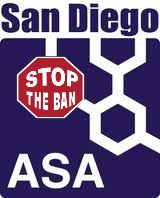 Attention: Patients, Collectives, and Concerned Citizens!
The San Diego Chapter of Americans for Safe Access (ASA) will be holding an EMERGENCY CHAPTER MEETING on Tuesday, April 5, 2011 at the La Jolla Brew House located at 7536 Faye Ave. San Diego CA – Collective and Cooperative Directors are encouraged to attend. We will be discussing the litigation strategy San Diego ASA will be supporting and hear from Attorney's John Murphy, Melissa Bobrow, and Kimberly Simms who between the three of them represent over 80 collectives and cooperatives in San Diego.
WHAT: Emergency San Diego ASA Meeting – Stop the Ban Next Steps and Collective Litigation
WHERE: La Jolla Brew House – 7536 Fay Avenue La Jolla, CA 92037
WHEN: Tuesday April 5, 2011 – 7pm-9pm
In the last couple months, the San Diego ASA Chapter was instrumental in mobilizing hundreds of people for the City Council meeting where over the most unprecedented public opposition the council has seen on any issue, they enacted the overly restrictive ordinance with a few minor concessions. The few concessions that were made by the San Diego City Council are a direct reflection of the hard work of the Stop the Ban campaign and the activists part of that coalition.
If you are a collective director or manager, you definitely want to be at this meeting. There is litigation already planned, and at Tuesday's meeting we will hear from San Diego's best medical marijuana land use attorneys, John Murphy (one of the attorneys who worked on the Anaheim case), Melissa Bobrow, and Kimberly Simms about their plans for lawsuits with the city including taking action to create a compliance period, as well as resolving zoning issues through litigation.
San Diego ASA encourages all collectives and cooperatives in San Diego to come to Tuesdays meeting and support the efforts of these attorneys as well as reach out to them for help with your case. Our chapter strongly encourages you to carefully consider the attorneys you choose to represent your collective for litigation and make sure they have solid experience on this issue as these attorneys do prior to making a decision on who will be representing your collective.
At the Tuesday meeting we will also be discussing the next steps for the Stop the Ban campaign and our plans to ramp up the campaign efforts in every municipality in the county.
Be part of the change, and the political force that San Diego ASA and the medical marijuana community in San Diego have become.
Get Involved, Get Active, Make a Difference!
San Diego Americans for Safe Access
www.safeaccesssd.com
Get Involved, get active, make a difference!
Join ASA – www.safeaccessnow.org