Check out this week's San Diego CITYBEAT Magazine, in it you will find a story about the Stop the Ban coalition campaign and letter writing effort! Here is the article as well as a link to the City Beat website where you are encouraged to leave comments!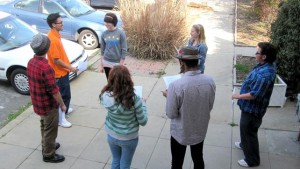 Wait a minute, Mr. Postman
Medi-pot advocates hope letters sway upcoming City Council vote
By John R. Lamb
"Please Mr. Postman, look and see / If there's a letter in your bag for me" —The Marvelettes
With D-Day (Decision Day) in the San Diego medical-marijuana debate less than three weeks away, youthful idealists borne out of the world of e-mails and texting are turning to a more antiquated communication device— the hand-written letter—to get their message across.
On March 28, the San Diego City Council appears set to weigh in officially on regulations that are meant to bring some sanity to the Wild-West, gee-what-do-we-do-with-these-things reality that currently swirls around medical-marijuana dispensaries and collectives.
The day's been a long time coming—15 years since state voters spoke loudly in favor of medical marijuana—and a quick check of council sentiment seems to indicate that our elected leaders can't wait for March 29, when the issue will be behind them.
Medi-pot advocates are well aware of the City Council's penchant for finding distraction from tough decisions, as this one undoubtedly will be. Talk to council staffers and you'll get the same shrugs over how this issue will shake out. Kind of the beauty of the democratic process, eh? No foregone conclusions.
But these advocates aren't sitting back and waiting for medi-pot's fate in San Diego. By their estimation, the ordinance currently heading toward council discussion will result in a de facto ban on collectives because restrictions will allow for only a few locations in industrial zones—not exactly the advocates' vision of safe access.
So, for the last two weeks, dozens of folks have heeded the call and gravitated to a historic former Mormon facility overlooking a Hillcrest canyon to help spread the word about the coming vote and, ideally, gather 5,000 to 10,000 hand-written letters from residents who agree that the proposed ordinance is too restrictive.
On a recent Friday morning, leaders with the local organization Canvass for a Cause—which cut its political teeth in 2009 by advocating for marriage-equality—stood in circles with fresh-faced canvassers who enthusiastically practiced the pitch they'd give just an hour later to total strangers at a grocery store in La Jolla as part of its "Stop the Ban" campaign.
"We're an organization that will start a conversation that many residents probably have never had," said Tres Watson, the organization's fireball executive director. "When they go to the store, they have their list planned: milk, eggs, butter, sugar. But gay marriage and cannabis reform? That may not be on the list, but we have that conversation with them that they normally wouldn't have and identify ways they can get involved and get active in their own community."
In about two weeks' time, the group—which has partnered with the local chapter of Americans for Safe Access (ASA)—have convinced shoppers in all council districts to write more than 1,600 letters that are then mailed directly to the letter writer's council representative.
"The thing about street canvassing is, we get moms and pops and older ladies and families and people who care about this issue but never really found an easy conduit to get involved," Watson added.
Watson said Canvass for a Cause got its feet wet in the marijuana political wars during the Proposition 19 campaign last year, a legalization measure rejected by state voters in November. He knew it would get weird when, while gearing up for an event called Yes We Cannabis, "police showed up at our training session. They said, 'We're just here to protect you—in case you have protesters.' Yeah, sure."
Watson, who talks a mile a minute, rattled off "persuasion rates" and other strategic ennui like they were embedded in his DNA. But the upshot in this debate, he lamented, is the utter lack of mainstream support. "Even the Democratic Party didn't want to get involved. It and other major institutions consider it a third rail they don't want to touch."
So, it's one Target, one Walmart, one shopping mall, one grocery store at a time, asking individuals if they'd mind taking five or 10 minutes from their day to write a letter to their council member.
Rachel Scoma, a recent law-school graduate, walks over with a manila folder overflowing with letters— from people living outside the city borders. (Coming your way, county supes!) She also offers a sampling of local letters. "Some of these are really, really powerful," she said.
There are letters from combat veterans who rely on medical marijuana to overcome their battle wounds, both physical and mental. As one wrote, "I feel this ordinance will prevent me and other disabled vets like myself to receive proper medication."
There are senior citizens, as well, including a leukemia patient who relies on "a small amount of cannabis daily to give me the energy I require to live independently." Others make reference to the "miracle" role medical marijuana plays in pain relief.
Some even acknowledge that the council faces a tough decision. "I know medical marijuana is a difficult subject for a councilmember to touch," one gentleman wrote. "I have many friends who are AIDS patients, and cannabis is one of the things that they've explained to me helps protect their quality of life."
Most are respectfully crafted, with the occasional suggestion thrown in to, as one letter blared, "Stop the ignorance and pull your heads out! … Take off the blinders and get San Diego back into fiscal fitness!"
As it stands today, the proposed ordinance would limit dispensaries to certain industrial zones and ban them from being 1,000 feet from other collectives, schools, parks, churches, city libraries, playgrounds and a host of youth-serving facilities.
Eugene Davidovich, who heads the local ASA, is convinced that if enough people realize the extent of the limitations proposed, then council minds can be swayed. The list of partners in the Stop the Ban campaign continues to grow, including clergy members and veterans groups.
The Rev. Canon Mary Moreno-Richardson of St. Paul's Episcopal Church in San Diego is one of those, and she's trying to reach out to other religious leaders throughout the city.
"People are smarter now," she told Spin Cycle. "They're not buying into the whole Reefer Madness thing, and they are seeing incredible benefits. If you stop and think about what's happening with the [Mexican] cartels and the violence on our border and all that, and they're busy arresting sick people, some of whom are practically at death's door?
"You really have to stop and say, 'What kind of justice is this?'"