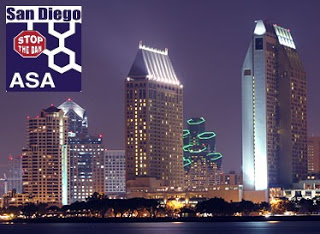 The San Diego Chapter of Americans for Safe Access (ASA) is calling on medical cannabis patients and advocates, to speak up in opposition to the ordinance passed by the San Diego City Council on March 28, 2011. The San Diego Mayor Jerry Sanders along with the entire City Council and City Attorney need to hear that we do not support shutting down all dispensaries with restrictive permitting and zoning.
This ordinance eliminates access for legitimate patients, who use medical cannabis to treat the symptoms of AIDS, cancer, Multiple Sclerosis, chronic pain, and other serious conditions.
Medical marijuana patients and providers should not be zoned out of the City into far flung industrial areas and forced to go through an overly restrictive compliance process.
Patients, clergy, veterans, LGBT groups, and concerned citizens turned out by the hundreds to the council meeting on the 28th of March all urging the council to amend the ordinance and protect the most vulnerable in our communities.
That day hundreds of people, who testified for over six hours, were urging the City Council to add three specific amendments to the ordinance. The council refused to even take those amendments up for a vote.
Patients in urban areas with no space to cultivate cannabis, those without the requisite gardening skills to grow their own, and, most critically, those who face the sudden onset of a serious illness or who have suffered a catastrophic illness — all tend to rely on dispensaries as a compassionate, community-based solution that is an alternative to potentially dangerous illicit market transactions. This ordinance eliminates this compassionate solution for many thousands of patients.
Crime statistics and the accounts of local officials surveyed by ASA indicate that crime is actually reduced by the presence of dispensaries in San Diego. Many medical cannabis dispensing collectives have shown themselves to be positive additions to the neighborhoods in which they locate, bringing additional customers to neighboring businesses and reducing crime in the immediate area.
To ensure that qualified patients, caregivers, and dispensaries are protected, general regulatory oversight duties — including permitting, record maintenance and related protocols — should be the responsibility of the local department of public health (DPH) or planning department. Given the statutory mission and responsibilities of DPH, it is the natural choice and best-suited agency to address the regulation of medical cannabis dispensing collectives. Law enforcement agencies are ill-suited for handling such matters, having little or no expertise in health and medical affairs.
Regulated dispensaries do not generally increase crime or bring other harm to their neighborhoods, regardless of where they are located. And since for many patients travel is difficult, we must take care to avoid unnecessary restrictions on where dispensaries can locate. Patients benefit from dispensaries being convenient and accessible, especially if the patients are disabled or have conditions that limit their mobility.
Please urge the San Diego Mayor to amend the ordinance with the following:
Create a 2 year compliance period for collectives currently in operation.
Add all Commercial and Industrial areas back in to the list of allowed zones.
Reduce the proximity restriction to 600 feet away from schools as the only sensitivity use.
Reduce Process 3 to Process 1 "By Right", the same land use requirements imposed on pharmacies in the City of San Diego.
It is unnecessary and burdensome for patients and dispensaries, to restrict dispensaries to industrial corners, far away from public transit and other services. Depending on a city's population density, it can also be extremely detrimental to set excessive proximity restrictions (to schools or other facilities) that can make it impossible for dispensaries to locate anywhere within the city limits. It is important to balance patient needs with neighborhood concerns in this process.
Action Alert: Tell Mayor Jerry Sanders and the City Council to Amend the Ordinances Restricting Dispensing Centers!