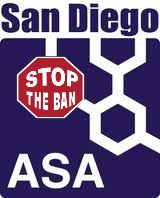 On Tuesday April 12, 2011 the San Diego City Council will be holding a second reading and vote to finalize their approval of the Medical Marijuana Ordinance they approved on March 28th.
As currently written, this ordinance forces all existing facilities to shut down and makes it likely that for a year or more that there will be NO MEDICAL MARIJUANA in San Diego.
After that period, this ordinance will only allow a few collectives to open and only in the far-flung industrial areas of the city.
Come out and speak against this ordinance and the second class treatment and discrimination medical patients are receiving in this city as a result of this vote!!!
There will be a RALLY & PROTEST starting at the San Diego City Hall at 202 C St at 9:00am and everyone will go to the City Council Meeting to speak against the ordinance at 10:00am (the council meeting could go on for several hours. Please plan to be available all day if needed)! This is our last opportunity to testify to the Council on this ordinance. The media and the public will be watching–it is our opportunity to get OUR message out.
WHAT: STOP THE BAN RALLY AND MARCH
WHEN: 4/12/2011 – 9am
WHERE: CITY HALL – 202 C St. San Diego CA
BE THERE AND HELP SEND A STRONGER MESSAGE TO THE SAN DIEGO CITY COUNCIL!
Also, click the link below to email the mayor and the city council opposing this ordinance!
http://salsa.democracyinaction.org/o/182/p/dia/action/public/?action_KEY=6378
San Diego Americans for Safe Access
www.safeaccesssd.com
Get Involved, get active, make a difference!
Join ASA – www.safeaccessnow.org