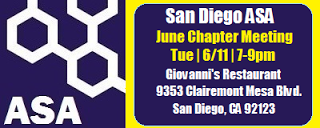 Join patients, advocates, scientists, and concerned citizens Tuesday, June 11th from 7pm – 9pm at Giovanni's Restaurant located at 9353 Clairemont Mesa Blvd. San Diego, CA 92123 for the June San Diego Chapter of Americans for Safe Access meeting.
We are excited to announce this month's special guest will be Dr. J. Hampton Atkinson, Co-Director of University of California San Diego (UCSD's), Center for Medicinal Cannabis Research (CMCR). Dr. Atkinson's will present the highlights from studies conducted by the UCSD's CMCR over the years, share updates on current and future activities, and be available for a questions.
Also, at Tuesday's meeting we will discuss state wide legislation and updates regarding recent bills introduced at the State Senate and Assembly that if passed would establish new medical marijuana regulations including replacing the existing collective and cooperative state wide system of distribution with commercial cultivators regulated by the CA department of Alcohol Beverage Control.
In the City of San Diego, the Mayor is reconvening his informal Advisory Committee to work on next steps for the City of San Diego. At Tuesday's meeting, we will be gathering input for the advisory committee's upcoming June meeting.
WHAT: June SD ASA Chapter Meeting
WHEN: 6/11/2013 – 7:00pm-9:00pm
WHERE: Giovanni's Restaurant – 9353 Clairemont Mesa Blvd. San Diego, CA 92123
If you are interested in helping influence what safe access to medical cannabis will look like in San Diego, then you won't want to miss this meeting!
For more information visit www.SafeAccessSD.org or email sandiegoasa@gmail.com
Follow San Diego ASA on twitter: @ASASanDiego