San Diego ASA stands in solidarity with the Occupy San Diego movement!
We've occupied the San Diego Civic Plaza in solidarity with the Occupy SD Movement since Friday!
Come out today and join the movement, find the SD ASA corner next to Canvass for a Cause right in the middle of Civic Center Plaza and help us stand up against the latest aggressive tactics against patients!
MAP OF LOCATION: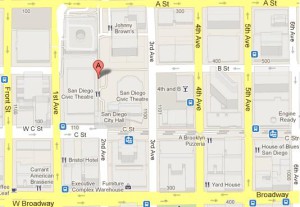 For more information call 619-303-1918 Ext 12
TOMORROW – Tuesday October 11, at 7pm join us for the Monthly Chapter meeting at the La Jolla Brew House where we will be discussing the State wide response and effort to protect safe access in our neighborhoods!
WHAT: October SD ASA Meeting
WHEN: Tuesday October 11- 7pm – 9pm
WHERE: La Jolla Brew House – 7536 Fay Ave, La Jolla 92037