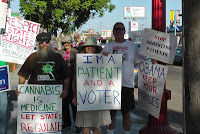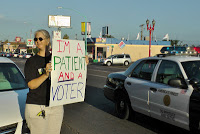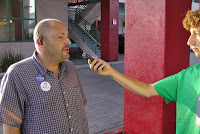 Today medical marijuana patients, supporters and advocates rallied at the San Diego Obama for America Campaign Headquarters against Obama's aggressive enforcement policy on medical marijuana. The San Diego rally was part of a nationwide action organized by Americans for Safe Access, the nation's largest medical marijuana advocacy group.
"President Obama must tell the more than one million patients in this country how he intends to move this
issue forward in his next administration," said Steph Sherer, ASA's Executive Director. "We are sick and tired of being told to vote against our health," continued Sherer. "Thursday's rallies are aimed at conveying that patients and their families are voters who may be influenced this November by the president's broken promises on this issue." As a campaigning senator and after taking office, Obama said he was "not going to be using Justice Department resources to try to circumvent state [medical marijuana] laws."
View all the pictures from Thursday's Rally for Access at San Diego Obama for AmericaHQ
A volunteer from the San Diego Obama for America Campaign and medical marijuana patient came out to
speak with advocates regarding the President's position on the issue. Listen to this weeks San Diego ASA podcast for the full statement from the volunteer.