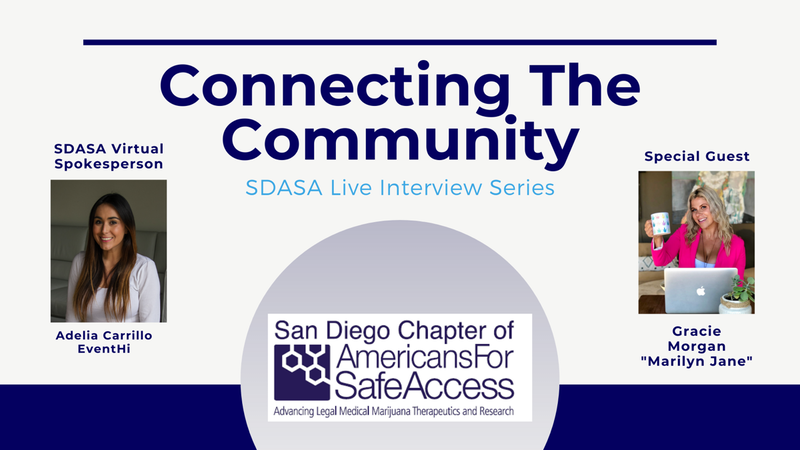 Connecting the Community is a bi-weekly interview series with local San Diego Cannabis community members helping educate, advocate or help move the local community forward.
Our first interview series kicks off with Gracie Morgan AKA "Marilyn Jane".
Marilyn Jane is a "Jane of all trades" in the cannabis industry. Over the last six years she's worked in North County San Diego to develop cannabis policy, engage and educate community members, create job opportunities, and operate and consult with cannabis businesses. Her ultimate goals are to promote positive precedent setting for legalized cannabis and to inspire change on local, state, and federal governing levels.
Action Item for the Community:
Marilyn Jane needs help in the City of Oceanside to bring safe access to medical cannabis to the city council's attention as a top priority during these challenging times. To receive more information on how you can help in Oceanside or your own city enter your info here: https://bit.ly/2UXY3Xz
Meet SDASA Virtual Spokesperson: Adelia Carrillo
Adelia Carrillo is the CMO of EventHi. Eventhi is an online ticketing platform for cannabis-related events. With Adelia's professional experience she is set to help bring life to EventHi's brand, vision and mission.
With her roots in the corporate and consumer electronics industry, her passion for technology, business and marketing has been a key strength in her transition into the cannabis space. Adelia is building an inspiring yet prominent voice in the world on the topic of cannabis and the event industry.
About San Diego Americans for Safe Access:
San Diego Americans for Safe Access (ASA) is the local chapter of the largest national member-based organization of patients, medical professionals, scientists and concerned citizens promoting safe and legal access to cannabis for therapeutic use and research. ASA works to overcome political and legal barriers by creating policies that improve access to medical cannabis for patients and researchers through legislation, education, litigation, grassroots actions, advocacy and services for patients and the caregivers.
ASA has over 30,000 active members with chapters and affiliates in more than 40 states. San Diego ASA helps protect the rights of cannabis patients. We are working to change local and federal policy to meet the immediate needs of patients as well as create long-term strategies for safe access and programs that encourage research. Learn more at http://www.safeaccesssd.com
Click Here to Watch interview here!