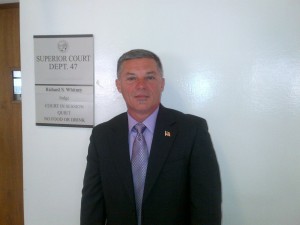 By Terrie Best – San Diego Americans for Safe Access Court Support Coordinator
San Diego, CA – Robert "O.J." Hudson is a forty-something medical cannabis patient who suffers from a host of sleep disorders leaving him debilitated and looking for non-chemical answers to his conditions.   Mr. Hudson has found the limited side-effects of cannabis tolerable and the plant to be of great benefit in treating his sleep apnea, restless leg syndrome, insomnia as well as several other medical conditions.  Mr. Hudson lives with two other medical marijuana patients.
On December 6, 2012, a SWAT- style raid was conducted on the Bay Park home where Mr. Hudson lives.  20 Narcotics Task Force agents infiltrated the residence, found  growing cannabis, confiscated the medicine and all three patients were subjected to DEA tactics of intimidation and arrested.
It appears that a major factor in the government securing a search warrant was a DEA agent's surveillance of a hydroponic store.
All three patients are out on bail and Monday, May 13, 2013, endured a preliminary examination of the evidence against them. Thankfully, the three victims of our federal government's interference with state law and San Diego County District Attorney, Bonnie Dumanis's disregard of state law are represented by an excellent legal team.  Bahar Ansari is defending Mr. Hudson. Melissa Bobrow and Kimberly Simms represent the other two defendants.
The exam began at 10:00AM in Department 47 of the San Diego Superior Courthouse at 220 W. Broadway, before Judge Richard S. Whitney.
While the case will be tried in state court where defendants can avail themselves of California's medical marijuana defense, the San Diego County Deputy District Attorney, Deborah LaTouche's two witnesses were DEA agents attempting to testify using the federal contention that cannabis has no medicinal value.
LaTouche's first witness, DEA Special Agent Terry Ann Discoll was sworn in and gave testimony to having a mere ten hours of marijuana training which she received during her initial DEA academy training. Of course none of this training was medical cannabis related.  Agent Driscoll did admit that participating in Group Three of the San Diego Field Division to eradicate cannabis had exposed her to more cannabis grow operation eradications than in her entire 20 years of law enforcement.  This testimony solidifies the belief that the federal government is dedicated to overturning the will of California's people who voted in favor of medical cannabis use in 1996.
Driscoll's testimony called attention to the three small grow areas in the home, which she alleged contained 74 plants in various stages of development, several bags and some jars of dried cannabis.  However, in the cross examination by defense counsel, Driscoll was unable to differentiate between useable medical cannabis, clones and trim, saying "marijuana is marijuana and there is no such thing as medical marijuana."  Much of her testimony on cross consisted of statements such as "I am not an expert" and "I have no experience in medical marijuana." Driscoll was clearly rattled at questions about the three medical cannabis doctor recommendations found at the home.  She did not know whether the clones on the premises were checked for root systems to determine if they were actually viable plants or simply branches stuck in grow medium. Finally, Driscoll ended with the telling statement, "I don't know, I only participated in the eradication."
The three defendants are charged with cannabis cultivation and possession with intent to sell but the DDA LaTouche's second witness, DEA Special Agent Justin Faw said nothing to prove indication of sales. Faw pointed out that a scale on the premises indicated sales and the quantity of cannabis did as well.  Even though Faw professed to training in medical cannabis via the California Narcotics Officers Association, his cross examination by Ms. Ansari revealed that he was ignorant of the fact that various strains help various conditions and of the common practice of weighing dosages (which would explain the scale).  Additionally, in a comical assertion Faw indentified a small grinder commonly used to cut up flowers for easier joint rolling and claimed it was used to make powdered cannabis; saying clearly that was indication the three defendants were selling cannabis.
The defense's job was made much more difficult due to the fact the evidence was housed out-of -reach by any but two DEA approved forensic companies and could not be viewed by the defenses' own expert witness, William Britt.  The defense was forced to use Utica Toxicology to evaluate the medical cannabis evidence last week.  Strangely the Utica representative did not have a scale sensitive enough to weigh anything less than a pound and there were serious questions about weight counts, how the plants and dried flowers were weighed and the accuracy of any of the plant material weight.
In the defense cross examination of Faw, the agent seemed desperate to evade questions posed to him by Bahar Ansari who did a fantastic job of pinning him down.  Ms. Ansari was successful in eliciting testimony that no indications of sales were shown during months of surveillance of the premises, no pay and owe sheets were found and no practical cannabis packaging was found beyond what currently held the patients' personal cannabis.
Agent Faw's testimony as regards medical cannabis was so flawed that defense attorney Melissa Bobrow moved to strike his entire testimony from the record based on People V Chakos which reversed a conviction, reading "Nowhere in this record do we find any substantial evidence that the arresting officer had any expertise in differentiating citizens who possess marijuana lawfully for their own consumption, as distinct from possessing unlawfully with intent to sell." Although Judge Whitney denied the motion for this move to strike, from what he called a probable cause hearing, the judge indicated the motion might have merit at trial.
Late in the day, defense expert witness William Britt took the stand. Mr Britt, a childhood polio survivor and Founder of The Association of Patient Advocates is a medical cannabis patient himself. He spent 20 minutes explaining his qualifications as an expert witness to medical cannabis yields, dosages and cannabis grow operations.  Listing the multitude of seminars, trainings, courtroom testimony and evidence reviews totaling in the hundreds he was able to explain the indoor grow at the residence.  He led the court through the vegetative and flowering process, and explained the cloning process and nursery elements of a grow operation.
Mr. Britt had viewed pictures and a video of the evidence earlier that day.  Mr. Britt determined that of the 74 plants, only six were mature with buds.  Mr. Britt also explained why individual patient growers might grow different strains for different ailments explaining the need to package separately, a circumstance the prosecution obsessed over as indication of sales.
Mr. Britt's testimony lasted the rest of the afternoon and the preliminary exam had to be continued into Tuesday, May 14.   Mr. Britt resumed his testimony, and was then cross examined by LaTouche.
Deborah LaTouche has a history of crushing losses in
medical cannabis cases
.  Last year she was reprimanded by Judge Laura Parsky for refusing to look at exculpatory evidence in the Dexter Padilla case.  The Padilla case resulted in a hung jury and when LaTouche expressed intent to re-file charges, Judge Parsky shot her down saying LaTouche bordered on 'disingenuous' in the way she presented her arguments in the case.  Judge Parsky then dismissed the Padilla case in the interest of justice – a rare move for a judge and a humiliating moment for LaTouche.
Unfortunately this defeat did little to reduce LaTouche's rabid courtroom persona.  In her cross examination of Mr. Britt, she repeatedly badgered him about his qualifications and asked him if he had smoked cannabis before taking the stand.   LaTouche also demanded to see Mr. Britt's notes he had taken with him to the witness stand.  In her closing argument, she repeatedly misstated the law under the Compassionate Use Act and the Medical Marijuana Program Act. Mr. Hudson's attorney, Ms. Ansari was quick to point out LaTouche's erroneous statements to Judge Whitney.
After both sides completed their closing arguments, Judge Whitney put off his decision until Wednesday, May 15 in order to review the evidence and read the case law the defense had presented.  On Wednesday, we were all hopeful that the ordeal of these lawful citizen patients would be over, but unfortunately Judge Whitney bound the three over for trial.  To his credit, his honor recognized this case as a close call and repeatedly insinuated that the prosecution would not have an easy time at trial.  He recognized what we all saw, that the counsel for the three patients conducted a stellar defense and LaTouche has her work cut out for her in presenting this case before a jury of twelve.  It is clear she does not have a case and Judge Whitney, though he found probable cause, did  not seem at all convinced the case would result in conviction.
This case illustrates San Diego District Attorney Bonnie Dumanis' refusal to follow state law and her penchant for making the procedure the punishment as regards medical cannabis patients.
The trial is tentatively scheduled for August 29, 2013 and all are encouraged to stand with O.J. Hudson and his co-defendants as they fight for the rights of all medical cannabis patienst.  When asked how he felt, O.J. admitted it hurt to be persecuted for his choice of medicine, however he feels that seeing the case through is the right thing to do.