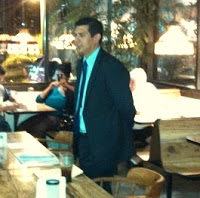 On Tuesday of last week at the September chapter meeting, current San Diego City Councilmember and Candidate for Mayor, David Alvarez stopped by and spoke to the group about his position on medical marijuana. Councilmember Alvarez voiced opposition to any ban and the need for those who use medical cannabis legally to have safe regulated access throughout the City of San Diego, not just concentrated in one far flung industrial area of the city. Mr. Alvarez also promised that if elected as Mayor, he would continue on the path towards sensible regulations as Filner did.
Councilmember Alvarez also explained that although he has no personal experience with those who use this medicine, he still understands the need for those who do, and wants to learn more about how patients benefit from it.
Please take a moment to email or call San Diego City Councilmember David Alvarez and thank him for his support of safe access to medical marijuana and for coming out to the meeting. Also, in your emails please include your story and why medical cannabis helps.
The Councilmember can be reached through email at: davidalvarez@sandiego.gov or via telephone at (619) 236-6688
Also, I want to invite everyone to our North County meeting coming up on the 24th of this month at a brand new location in Encinitas! The meeting will be held at Captain Keno's 158 N Coast Highway 101 Encinitas, CA 92024 from 7-9pm Eugene Davidovich, Chapter Coordinator San Diego Americans for Safe Access