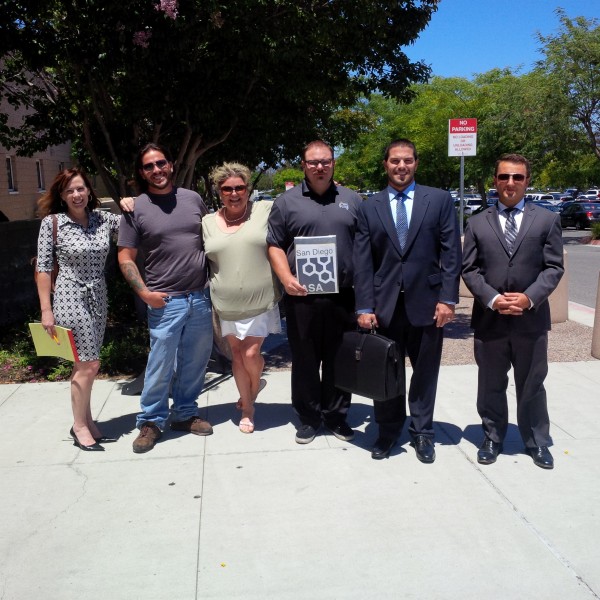 San Diego, CA – The trauma San Diego District attorney Bonnie Dumanis' office has perpetrated on legal medical cannabis patient Laura Sharp has come to a strange but welcome end as the Deputy District Attorney handling Laura's case dropped the charges in April and then today in court paved the way for Laura to receive all of SocalPURE, Inc cooperative's medicine and property back.
The property, seized in an October, 2013 raid on SocalPURE, Inc. was ordered returned yesterday by Vista court judge William S. Dato. The items returned took up four pages of the motion filed by Laura's attorney, Michael Cindrich. The motion for return of property requested the cooperative's medicine, revenue, electronics and grow equipment be released to Laura, as a directing member of SocalPURE which is a non profit mutual benefit corporation. Since there was no argument from prosecutor Landy Spencer-Daly, the judge signed the order in chambers and the last tentacles Dumanis office had into Laura's life were severed without incident.
Even though Laura has the property, she does not see this as a victory for herself or the cooperative. She says nothing can take away the fear and humiliation of being raided and having a gun held to her head by her own community's law enforcement. Also the cooperative was destroyed and defiled as the raiding officers left vulgar messages inside.
According to Mike Cindrich, this just may be the largest and most valuable property ever returned in a medical marijuana cooperative case. Among the items was the cash owned by SocalPURE. However, not listed was 500 dollars removed from Laura's wallet at the time of the raid. The money from the wallet had been bagged in an evidence bag but did not appear to be logged.  Directly after the raid, the victims found the marked evidence bag torn open and discarded next to what appeared to be a bucket of police urine.  Grossed out, they still wondered if the cash would turn up in evidence anyway, but they had their answer when it was not there.
In an unusual tactic, the deputy DA, Spencer-Daly herself was at the raid on SocalPURE last year.  She also conducted an investigation into patients found on rosters at the cooperative. Some patients reported being called by Spencer-Daly and asked how often they visited SocalPURE and how much medicine they obtained while there.
One wonders how much tax payer money was spent on this multi-agent raid, beginning with hours of evidence bagging; then hauling and storing a couple trailers full of grow equipment to comb through later; finding no evidence of wrong doing, dropping the whole thing.
Laura and her attorney would have opened her shop to inspection if asked, saving hundreds of thousands of dollars and preserving Laura's rights.  There was never a need to destroy everything around her and her family.
Laura, is a pretty blond lady, married for 30 years with a son, Nelson, also a member and charged after the raid on SocalPURE, Inc.  The two spent a good deal of time researching the law and neither one was afraid to take the case to trial.
Mike Cindrich, the President of San Diego NORML and a long time Americans for Safe Access member was accompanied by associate attorney Matthew Shapiro during the trial proceedings in Laura's case. We applaud them both and all the defendants involved.
Bonnie Dumanis has led a fierce fight against medical cannabis patients in San Diego.  This case was one of the clearest messages so far that she intends to waste tax payer money in her politically driven motive to make the procedure the punishment. Dumanis uses the California court system to ruin the lives of medical cannabis patients and it must stop.  Please watch our website www.SafeAccessSD.org for ways to get involved in the countdown to Recall Dumanis.
by Terrie Best