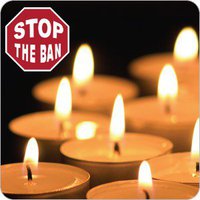 SAN DIEGO – Citizens united in opposition to the upcoming medical marijuana ordinance in San Diego on the grounds that it is too restrictive will be holding a candlelight vigil tonight 6:30-7:30 PM at the Veterans Museum and Memorial Center Garden located at 2115 Park Boulevard San Diego CA in solidarity with the medical cannabis patients that will suffer if the ordinance passes as written.
Clergy, patients, concerned citizens, veterans, and LGBT groups will be lighting candles in solidarity with the most vulnerable members of our community who will suffer if the San Diego City Council passes the proposed ordinance regulating dispensaries as it is currently written.
On Monday, March 28th the San Diego City Council will be voting on an ordinance that, if passed as written, would force all medical marijuana facilities in the city to shut down and would make it virtually impossible to reopen.
California Churches Impact one of the coalition partners in the Stop the Ban campaign issued the following statement earlier this month regarding the upcoming city council vote:
"We officially will support the "Stop the Ban" campaign as California Church IMPACT. Our website is www.churchimpact.org

We support this campaign because re-zoning access to medical marijuana to limit its availability is unjustly harsh to people with genuine medical needs. If there are abuses in access, then deal with those. There is no kindness in making access to relief virtually impossible for those with cancer, glaucoma, and other serious ailments.
We represent 1.5 million people within the California Protestant communities of faith. Care for those whose lives are affected by disease and pain is an issue of the common good. We support this campaign in order to reinforce our communities' concern for those people and their needs.
The Stop the Ban campaign is urging the City Council to amend the ordinance to open up more zones for medical cannabis facilities, to bring sensitivity use requirements in line with state law, and to bring permitting processes in line with those imposed on pharmacies".
For more information about the campaign to STOP THE BAN visit www.stopthebansd.org | www.facebook.com/stopthebansd