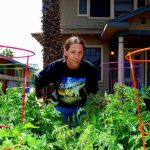 June 4, 2016
By Terrie Best- San Diego Americans for Safe Access
San Diego, CA – Almost a year ago this week San Diego police officers stormed past medical cannabis patient Micah Wojnowski's organic vegetable farm in Golden Hill and into the home he shared with his teenage son and a couple of roommates. The police entered the urban home with guns drawn on a tip from a confidential informant. They did not find what they were looking for but decided not to accept defeat. Instead they searched Micah's house and garage, and set a stage to paint Micah as a child abuser because he is a medical cannabis patient, an industry expert and a parent.
Bonnie Dumanis took 37 year old Micah to trial but a jury of 12, including one San Diego County sheriff put an end to her charade Friday afternoon. The five woman and seven man panel deliberated for about nine hours and returned not guilty verdicts on manufacturing concentrated cannabis and felony child endangerment charges. The long hours were due to the fact they had deadlocked over a lesser-included misdemeanor offense with two jurors holding out to convict. After the reading of the not guilty verdicts and some discussion, the prosecutor moved to dismiss the misdemeanor charge. Micah was free to go off and continue being a good dad to his son and an asset to his community.
The trial began Downtown in Department 38, on Thursday, May 26th with Judge Timothy R. Walsh presiding. Micah had an excellent public defender in Denis Lainez. Jury selection went quickly, the only notable events being an Americans For Safe Access member in the initial jury pool – he was excused by the prosecution. But, then a San Diego County Sherriff made it on to our jury in the number 12 spot.
The prosecutor, David McNees's first witness was 27 year police veteran, detective Ray Morales of the San Diego Police Department. The retirement-aged officer came with a story he told the jury in police photographs with a claim of a confession from Micah. But, it was not a confession in writing, nor video, nor tape.
Ray Morales is the reason we should not talk to the police. He painted a dim picture of a run down drug house, with butane cans and Pyrex dishes strewn about. Morales falsely claimed – on the stand at the preliminary hearing – that a pill found on the floor was a controlled substance, when it was not and proven so by his own crime lab. The detective claimed to never have noticed Micah's tidy, community vegetable garden in the front yard even though he and his armed and armored men stalked Micah there for at least an hour before they raided while he trimmed his tomatoes.
Morales claimed Micah admitted to making butane hash oil 20 times in his garage. Micah testified that the retail-sized butane cans and five sticky Pyrex dishes the police found about his house had been stored behind a locked cabinet in a locked garage, unused for many months. The contrasting testimony was striking, in a classic "his-word-against-mine" scenario that the jury was tasked with working out. Were they paying attention when the SDPD chemist told them she is not accredited to test for the presence of butane in cannabis samples? Did they hear defense expert witness Andrew Pham, former-SC Labs lead scientist, testify that nevertheless, there ARE tests for the presence of butane? Did they understand a 12th of a gram of concentrated cannabis is an absurdly small amount? Did they believe Micah's testimony that much of the evidence placed around the house originated from the garage and he did not know how it got into the house? They had heard terrible things by the time the defense put on their case. Were they prepared to accept that police are capable of manipulating evidence? Would the sheriff bully them in the jury room? Would he be the jury foreman?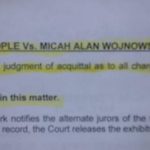 Late Friday these questions were answered. The jury believed the medical cannabis defendant and father over the seasoned detective and public servant; the sheriff juror either did not bully his fellow jurors or did not have the heart to do so. And with that there appeared another crack in Bonnie Dumanis's wall of injustice when it comes to medical cannabis patients.
This would not be the first time we have seen evidence arranged by the DA's office to incriminate people. Bonnie Dumanis herself was guilty of this tactic during her outrageous press conference on the Fridoon Rawshan killing last year in which she used props to impeach the character of a man shot by police. It is a routine artifice in cannabis cases. If police set a gun next to a bag of cannabis for a press release, it looks bad to the public (Operation Green Rx). If they scour your photo albums for glamour-style shots of you counting money (Jovan Jackson's 2nd trial) it makes you look bad to a jury. It is a tactic that defiles the principles of justice and erodes public safety and people are tired of it.
This time, because Micah had some dusty cannabis extraction equipment in his garage the police decided to manufacture a case of child endangerment to ruin his life and increase the chances of Micah's son growing up without a father. The prosecution in his closing argument even tried to convince the jury that better lies COULD have been told to convict Micah but weren't. McNees thought the absence of really quality lies should be proof that cops do not lie. I hope Ray Morales seeks early retirement. Congratulations Micah on your defense and your good character.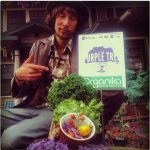 On a final note, one juror hung around after the verdict to tell Micah he was a good, good man. Juror number 6 paid attention. He congratulated Micah on his community garden, Purple Tree Farms, he told us half the jury believed San Diego Police Detective Ray Morales was a liar and that all the jurors agreed he mishandled the case.
If you see Micah Wojnowski skateboarding with his son, as he loves to do, please give him a hug and tell him good luck. He fought a big, frightening, corrupt giant and won. He is a hero and a good, good man. His attorney, public defender Denis Lainez battled hard for his client. It was obvious he believed in Micah and he took the time to follow his heart.