By: Eugene Davidovich
On March 9, 2010 at 9am in Department 55 at the San Diego Superior Courthouse, day 2 of my trial will begin. District attorney Bonnie Dumanis' office has filed a mountain of motions in limine with the court, all of which will be heard on the 9th in front of Judge So. Motions in limine are requests made by both sides to the Judge before the start of a trial that certain evidence may, or may not, be introduced to the jury.
The heap of in limine motions includes three that I believe are most troubling. The first is a request by the DA that the Judge not to allow me to use the medical marijuana defense, even though an official subpoena from the doctor who recommended the use of medical cannabis to me, was received and accepted into the record by the court at my preliminary hearing months ago. These records clearly prove to the court that I am a qualified patient, which even prompted the Judge at my prelim to say "there is evidence here that Mr. Davidovich is a qualified patient", yet nothing fazes the prosecutor's fierce fight.
The second troubling request is to ban the Jury from hearing any details about my four years of honorable military service with the United States Navy, including a request for a complete ban on mentioning that I was in the military at all. After my arrest in February of 2009, the DA's office had no problem mentioning my military service in the Operation Endless Summer news coverage. Since then, it would seem that she changed her tune and now wants to conceal the fact that I was in the Navy.
Finally, the DA filed motions to exclude two character witnesses from testifying at my trial. These two individuals have known me for over fifteen years and are prepared and willing to testify about their opinions of my truthfulness and character. Theresa Pham the prosecuting DA cited in her filings that to hear from the character witnesses would be an unnecessary burden on the courts time. The DA wants to ensure that nothing positive is said about me and that only their side of the story is heard.
In addition to the disingenuous in limine motions, it would seem that Theresa Pham, Dumanis' prosecuting puppet, has received a green light to do "anything it takes" to win this case. This green light seems to have allowed the puppet to insult my attorney in court, cry and whine to the judge when a ruling doesn't go her way and use stalling tactics in an attempt to buy more time to investigate above and beyond the year and a half long investigation already conducted.
I anticipate that on the 9th the DA will pull a few more tricks out of the prosecutorial sleeve to add to the propaganda and misinformation filled, politically motivated prosecution. I ask that members of our community come to court to support me on Tuesday, March 9 2010 in Department 55 at 9am. Witness the relentless, political war being waged against patients in San Diego yourself.
MY STORY
I am a twenty year resident of San Diego, a medical cannabis patient, and a victim of Operation Green Rx and San Diego District Attorney Bonnie Dumanis' brutal ambition to overturn California's Compassionate Use Act.
After having served four years in the Navy, including two deployments to the Gulf, medals, commendations and an honorable discharge I began to experience serious medical symptoms. With the use of medical cannabis I found relief from the symptoms without the debilitating side-effects I'd experienced with prescription drugs. During my treatment I was able to complete a Bachelors Degree then a Masters in Business Administration, all while building a successful career as a project manager in software development field.
Then, as a result of law enforcement's lack of training in California law or its unwillingness to follow that law, all collectives dispensing medical cannabis in San Diego were targeted and systematically closed. After reading the newly provided State Attorney General's (AG) guidelines for cannabis collectives I formed my own collective and began to lawfully cultivate, and collectively distribute medical cannabis to other members of this collective on a non-profit basis according to the state law of Proposition 215, SB420 and the help of the AG guidelines.
In November of 2008, I received a call from a man calling himself Jamie Conlan and asking to join the collective. After a rigorous qualification process where Mr. Conlan presented both a driver's license and a medical recommendation which he lied to a doctor to obtain, I was duped into allowing his participation.
Some months later, my Mission Valley apartment was raided by an armed narcotics team and I was taken to the police station where I met Conrado DeCastro who revealed Operation Green Rx. I was to discover later through the prosecutor's discloser that the officers of the operation were targeting collectives from CA NORML's website and posing as legitimate patients to obtain cannabis recommendations from doctors and then entrap collectives. I was shown two large binders with names and told "we are gonna' bring all you medical pot people down." Charged with four felonies, I was taken to jail, for legally providing a patient 120.00 worth of medical cannabis. I didn't think things could get much worse.
Imagine my shock to find that the DA held a news conference of manufactured lies, touting the success of what they now referred to as Operation Endless Summer, depicting me as a dangerous dealer of large amounts of heroin, meth, marijuana, as well as trotting out the "don't mess with the military" and the "streets of navy housing" mantra that the San Diego DA Bonnie Dumanis has been maintaining ever since. The evening news quickly picked up the story showing video footage of me at the arraignment hearing, and again listing drugs which did not exist nor with which I had any involvement, let alone charged with selling.
As a result of the false press conference, the police refusal to follow the law and the prosecutor attempting to deny the court evidence that I am a patient protected by medical cannabis laws, I am in the fight of my life. The amount of resources being spent on this case is unbelievable. Aside from the year long NTF investigation, the DA has put together a top notch team of prosecutors and law clerks as well as has recruited the famous anti marijuana activist Steve Reed to testify as an expert against me.
I am represented by attorneys Michael J. McCabe and Bahar Ansari who have been working tirelessly on my case and have provided me with exceptional representation throughout this process. They have been able to both help steer me through the legal system in my trial, as well as protect me from the constant threats and intimidation of the DA for speaking out about my situation.
This video was provided courtesy of the San Diego DA's office as part of the discovery in my case. It shows the delivery of medicine to the undercover officer who earlier had called, provided all his information, and was verified with his physician.
For more information about my case please visit www.eugenedavidovich.com
To get more involved in the community and to help bring this 'fierce fight against patients' to an end, join Americans for Safe Access and get involved.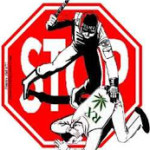 Visit www.safeaccesssd.com for the latest updates and news about medical marijuana in San Diego, come to the monthly ASA meetings, and get active.
Operation Green Rx must come to an end, and we will help bring it to an end.