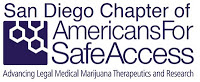 SAN DIEGO SOUTH BAY AMERICANS FOR SAFE ACCESS MEETING TONIGHT
This will be the first South Bay San Diego ASA meeting. The meeting will be held from 6pm-7pm at 1233 Palm Avenue
in Imperial Beach hosted by SDASA Advisory Board Member Marcus Boyd.
We have a great meeting lined up with information and updates regarding the San Diego Grand Jury report and well as the San Diego City, County and other jurisdictions' efforts in regulating medical marijuana dispensing collectives and cooperatives.
Please mark your calendars, come out and Join the effort. This event is FREE and everyone is welcome to join!
WHAT: 1st Monthly South Bay ASA Meeting
WHEN: TONIGHT – 6/10/2010 – 6pm to 7pm
WHERE: 1233 Palm Avneue, Imperial Beach
CONTACT: 619-303-1918 ext. 13
San Diego Americans for Safe Access
www.safeaccesssd.com
Get Involved, get active, make a difference!
Join ASA – www.safeaccessnow.org