By: Heidi Whitman, Social Media Coordinator for San Diego ASA
The Chang's need your help NOW! This is Carmen Chang. She is an 86 yr old mother who has been left to live alone & care for herself while her sole caregiver, her son Ronnie, has been held for over a year awaiting a Federal medical marijuana trial.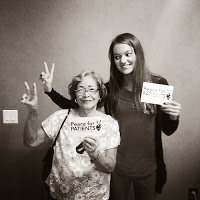 Ronnie Chang, a legitimate medical marijuana patient, has been held in federal custody facing over sixty counts for operating a legal, state sanctioned, medical marijuana collective.
After winning his case in State court, US Federal Attorney Laura Duffy's office decided to target him and filed the trumped up federal counts. The sheer number of charges was designed to persuade Ronnie to take a deal & dissuade anyone else from attempting to follow state law with regards to medical marijuana in San Diego.
Ronnie was his mother's sole caregiver. As a result of Duffy's persecution of her son, Mrs. Chang is within 1-week of losing all her & Ronnie's personal belongings currently held in a storage unit. The balance is $1,600 past due and is going to auction if it is not paid immediately.
The Chang's need your help NOW! Please donate what you can to keep this poor, suffering family from losing everything.
Donations can be made through Ronnie Chang's 'WePay' account here: ►https://www.wepay.com/donations/freeronnie
☛ Free Ronnie Chang! Stay up to date with his case & listen to his attorney speak about the persecution he is facing. www.facebook.com/FreeRonnieChang
☛ Demand Congress resolve the conflict between Federal & State laws! www.PeaceforPatients.org
Join ASA: www.americansforsafeaccess.org/join