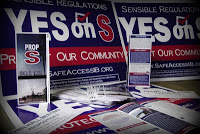 With the election only 14 days away, we urgently need your help in Imperial Beach!
Aside form the mass mailer full of reefer madness propaganda and unsubstantiated lies about what Proposition S would do, distributed to all the voters in the city, the opposition has started putting up 'NO on S' yard signs throughout the community. As the NO signs started popping up, mysteriously our Yes on S signs starting disappearing.
The NO on S folks are playing dirty politics, spreading fear, misinformation, and are willing to go to any extent to dupe the voters.
Tomorrow (Monday 10/22) at 11:00am we are asking that all those willing and able to walk the city and help distribute Prop S brochures meet us at the campaign office in IB. There, you will receive a list of addresses where the brochures need to be dropped off, a stack of brochures, as well as a brief training. At the end of the day (6:00pm), all volunteers will be meeting back at the campaign office for pizza and sodas!
WHAT: IB LIT DROP
WHEN: MONDAY – 10/22/2012 – 11:00am-6:00pm
WHERE: 1233 Palm Ave Imperial Beach, CA 91932
If you can't make it on Monday but are interested in helping another day, please email safeaccessib@gmail.com